with Chris Potter, Battlefront UK
Ever since their arrival with the Mid War books Afrika Korps and Desert Rats, I've really enjoyed Command Cards. Formations and units in the army books are great as they are and give players a really balanced list to choose their armies from, but Command Cards allow players to really make
their force historical, or geared to a certain doctrine. However the option to include iconic units, warriors and tactical doctrines is fantastic, and whenever a new book is released, it is always the command cards that I look forward to the most.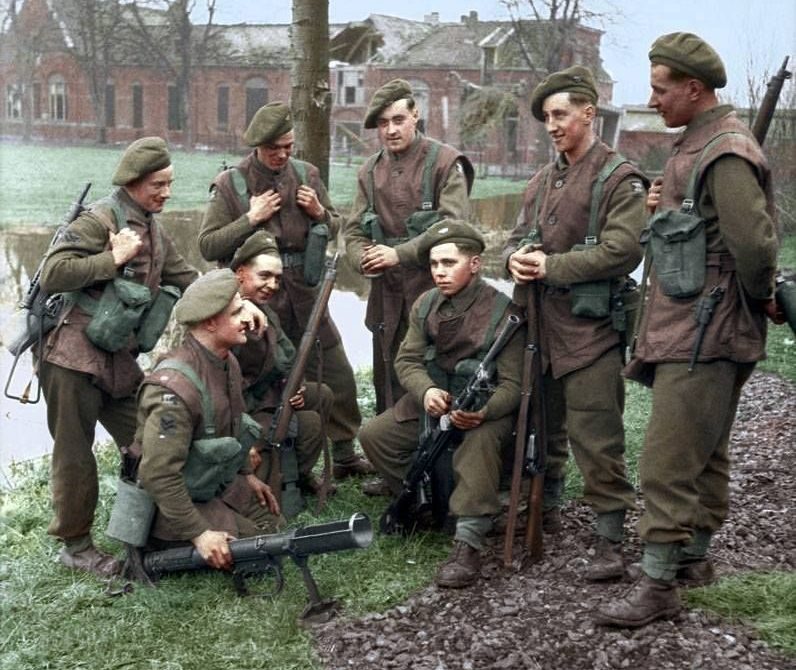 For the D-Day: British book, Andrew, Mike, and Phil have outdone themselves. There are six warriors of legend to use in your force, whether you have gone toward an infantry formation or an armoured squadron. From the only VC winner on D-Day itself, Stan Hollis, to young Joe Ekins in his Firefly scoring the kill shots on Tiger tanks at range, your choices are great. Further, there are a plethora of Title Cards to use for your force, which on the whole change one or more attributes of a particular force, from the 49th (West Riding) Division who amend their Counterattack rating for minus 1 point per platoon to a British build for an SAS Parachute Squadron, which uses a mix of units and amends the weapon profile of a standard Parachute Rifle Company, players are spoilt for choice!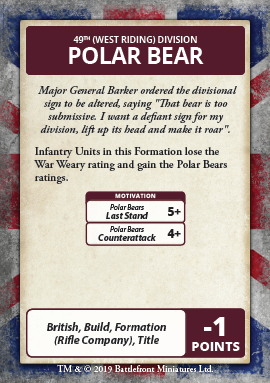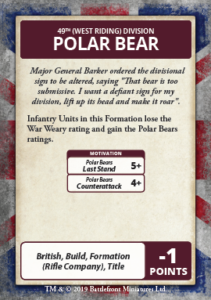 I was particularly taken with the 49th Division Card – POLAR BEAR, because as a young Private in the UK Territorial Army, my regiment came under the command of the WW2 Division's successor: 49th (East) Brigade, based originally in Grantham, Lincs and now just half a mile from the BF UK HQ in Nottingham. This forces me (kicking and screaming I assure you) to create a rifle company as Polar Bears. Even more interesting is a conversation during the Hobby League forums with a resident of Iceland, and my discovery that there were elements of the 49th Polar Bears stationed in Iceland as a garrison force! My how we got around, especially as my old regiment is now based in the South of England on the coast as befits their role…
With the Warriors, my Rifle Company could remain as the Army book allows ratings wise, and instead opt to take Stan Hollis VC as a warrior. Stan Hollis gives a much better motivation rating to a Rifle Platoon HQ in assaults, but also has a passive effect to nearby units effecting their Rally Rating to a 3+, which during assaults on the beaches or the bocage around objectives, will be invaluable!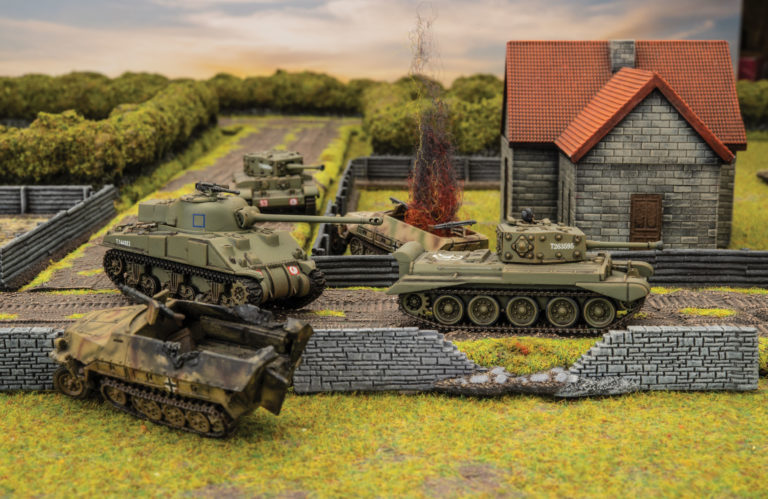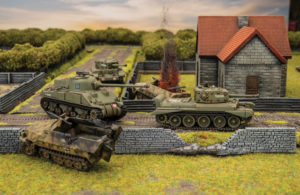 And Joe Ekins – what a boy! As the gunner of any Firefly (17 pdr) which in my mind would be the Sherman Armoured Squadron, suddenly gets a great benefit in terms of his specific rules for shooting, and only for 4pts. He gets to re-roll any failed To Hit rolls (perfect for me as my dice rolls are sub par and a running joke in the office) but he also gains the precise rule. This lovely little addition means Target Armour is not increased for range when working out Armour Penetration. Which in terms of the Maths, suddenly puts most German armour at a disadvantage in a straight up shoot out.