with Chris Townley
A few years ago I painted up a T-34 Battalion for Late War, putting myself under a bit of pressure to knock out the 21 models over 28 day. You can find out more about the army here…
As a deadline painter, having a definite finish date helped me to focus and actually get the job done on time.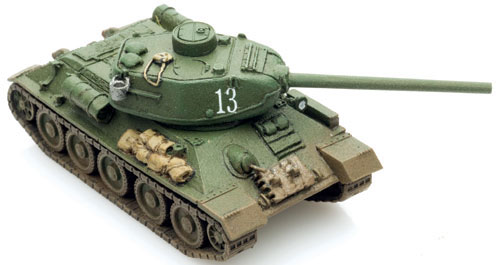 Five years later with the release of Red Banner I thought it might be fun to dust off the army and challenge Casey (my office nemesis) to a big game where I got to put the entire battalion, plus a few Mid War models borrowed from the work collection, on the table for a big tank smash.
Since we wanted to keep it "all about the tanks" I chose not to add any infantry or "pad out" the Force with any Formation Support options. I did however have a look through the Command Cards and found a few fun ones to add in.
Guards Tank Battalion (1 point) – this increases my chances of remounting to a 3+. Seemed like a great way to spend a point, especially since I need all the vehicles moving or firing.
Desperate Heroism (1 point) – I really don't have a plan for this. I figured it was 1 point and it might be situationally useful to be able to guarantee that I passed a Follow Me Movement Order.
Ram Attack (2 points) – Once again, I don't have a plan in mind here as the chances of pulling off a successful ram attack vs a Tiger is pretty darn low
| | |
| --- | --- |
| T-34 Passing a Skill Test | 33.3% |
| Tiger Failing to Avoid | 33.3% |
| Chance of Winning the Dice Off* | 8.3% |
| Kill Chance (failure means a Bail Out) | 50.0% |
| | |
| | 0.462% |
*to win the Dice off I need to roll a 5 or 6 and the Tiger needs to roll a 1 (or a 2, if I roll a 6)

However, an almost 1% chance of killing or bailing a Tiger in the front is significantly more likely than the 0% chance of killing (or bailing) it through the front with the T-34's 76mm gun. Seemed like an implausible but amusing way to spend 2 points.
The real question is, how am I going to use the army to beat Casey? I know he is bringing Tigers and Panzer III escort tanks so that means I'll have a couple of different types of targets to destroy. Luckily for me the disparity in their armour means whilst I am closing to flank (and kill) the Tigers, I can shoot up the Panzer III tanks.
I suspect the match up will come down to terrain as much as anything else because Casey will be using it to protect the flanks of his Tigers, whilst trying to stop me from advancing up behind it and avoiding his fire.
May the numerically superior army win!