with Casey Davies
The first book that I worked on when I first started working at Battlefront was Stalingrad. Consequently my first army was a Soviet infantry Battalion. 14 years, and a full infantry regiment later, we're back where it all started.
Like a lot of people I already have a large Soviet force (I have painted a lot of Soviets in my time at Battlefront), so the release of Enemy at the Gates is an opportunity to dust off some old models, add some of the cool new plastic kits, and play some games.
Since most of my Mid-war Soviets are infantry I'll have a look at those first. There are 2 options for Strelkovy, either the Rifle Battalion or the Hero Rifle Battalion.
The army I used to run was very Infantry heavy, here is the equivalent force out of Enemy at the Gates.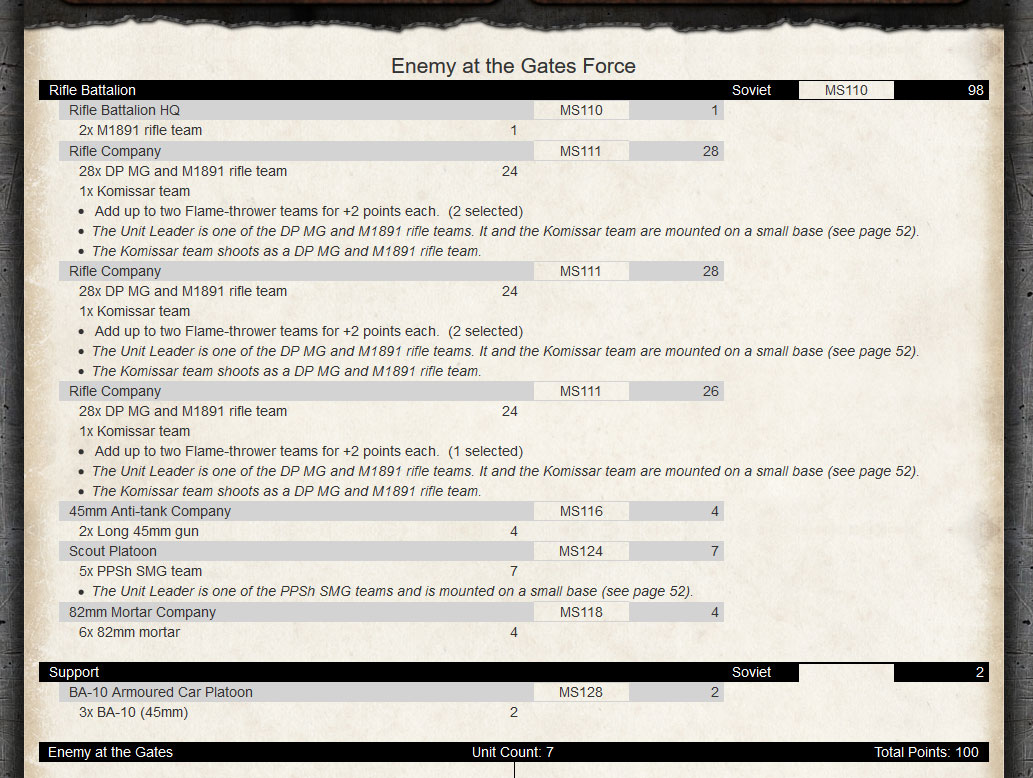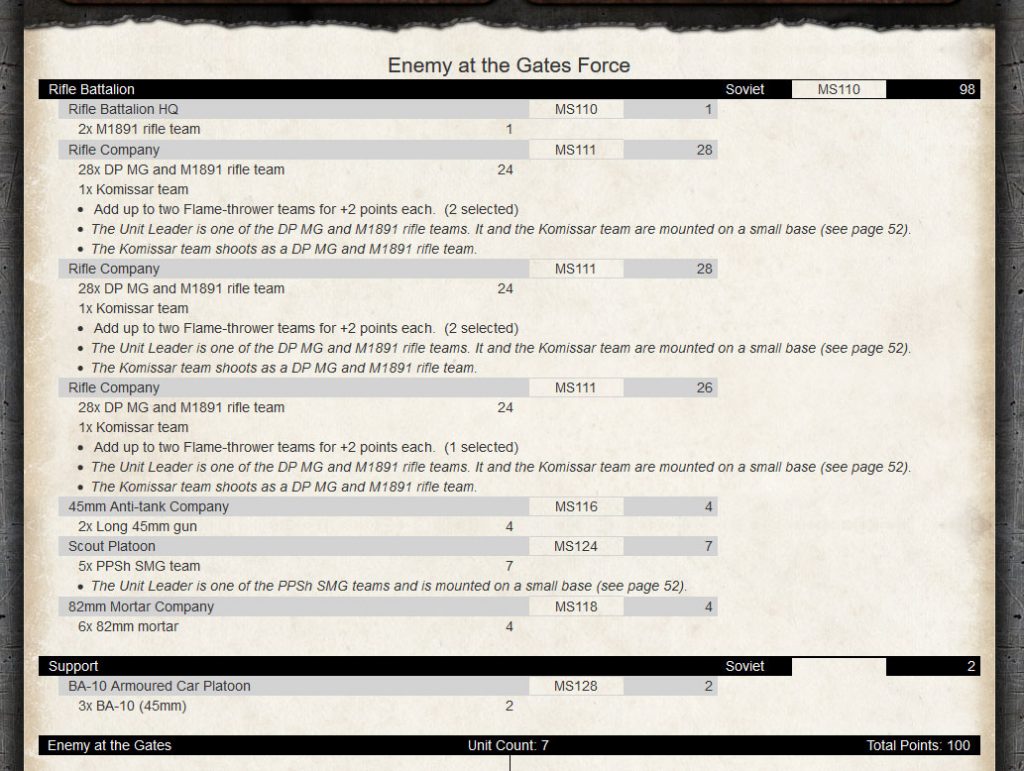 This is very similar to what I ran under previous versions, but I expect the army will act differently in V4. The infantry are harder to hit (3+ instead of 2+) but have a worse save (4+ instead of 3+) so I expect they will have a similar life expectancy as they used to.
The Scouts and BA-10s have spearhead, so the infantry will start closer to the enemy meaning there will take a turn or two less shooting. With that in mind I'll have to play a few games to try it out. I may find that I don't need the third infantry company any more, and that the force might be better served if those points were spent on some tanks to help shoot the infantry onto the objective (Valentines I'm looking at you).
The other Infantry force in the book is the Hero Rifle Company. These are smaller, better trained units. However these units are the remnants of larger companies that have seen a lot of action so have a lower Morale.
Any force I build using this list will be more of a combined arms force. The good thing about this force is that since the units are small, they are also cheap, so you can fit a lot of support in. The other benefit is that the combat platoons go back to having a 3+ save.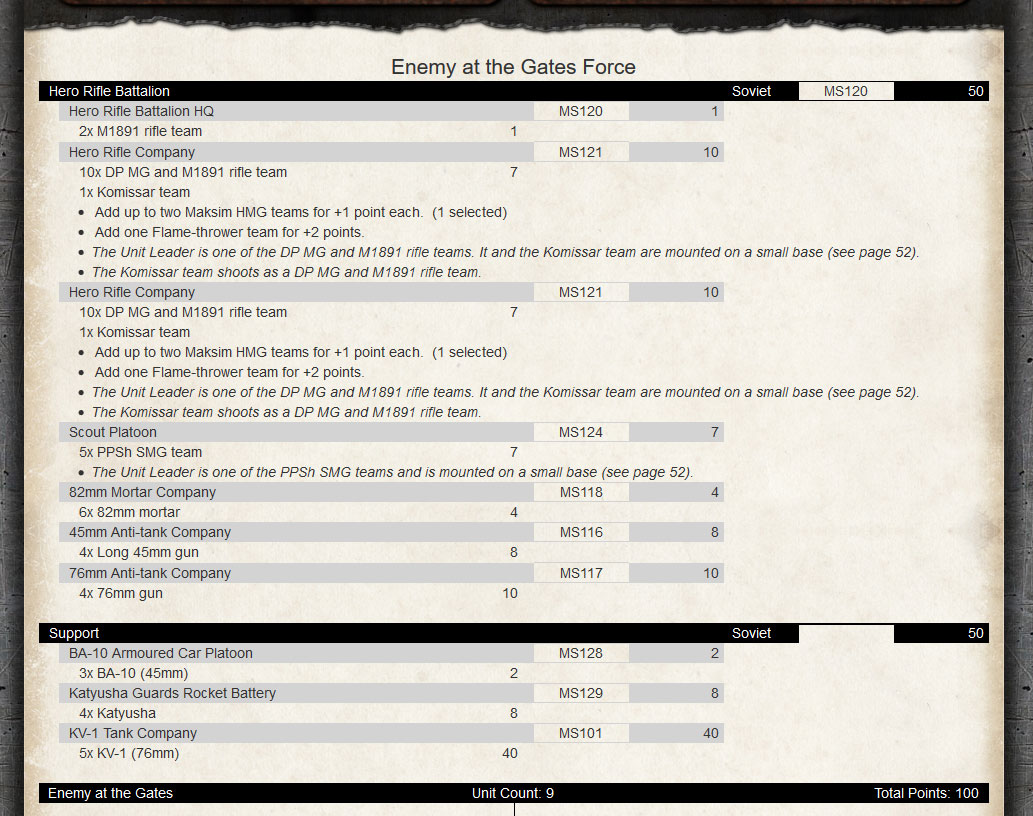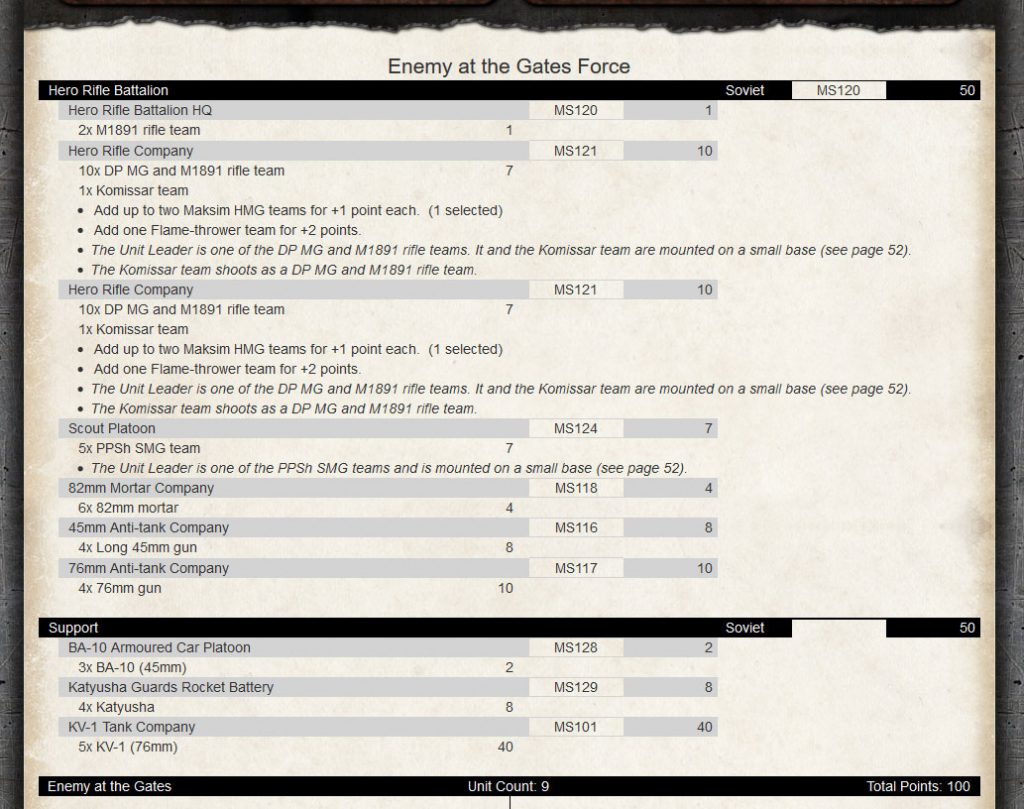 I think this force will give me a bit more tactical flexibility. I am not convinced othat I need all 5 KV's (4 would probably be enough), or the scout platoon when the BA-10s already give me spearhead. Those points would probably be better spent on a platoon of Valentines or some sneaky 57mm guns to give the army some anti-tank better than 9.
I have never been a massive fan of Artillery under previous versions of Flames Of War, it didn't suit my aggressive play style as it took too long to be effective; my infantry had already bade it to the front line before there were enough casualties from artillery to make artillery worth it. Now however, I'm trying to find ways to add even more artillery. The Katyusha has got an even bigger boost as its firepower has gone up from 5+ to 4+. With the pre-ranged in bombardment and the salvo template I'm tempted to find a way to add in another battery.
The good thing is that I can use my Shtraf Battalion to field most of this, however I'm still going to paint up some new KV-1 tanks and Katyushas (despite already having some) because the new models look so good. I guess now I'll have to play some games to find out how it works.
The other formation that has captured my interest is the Mixed Tankovy Battalion, but more on that later.