with David Griffin
Dave's Forces:
6pts T-34 HQ
23pts T-34 Tank Company, 3x T-34
13pts T-70 Tank Company, 10x T-70
30pts SU-152 Heavy SP Battery,  2x SU-152
14pt Light Tank-Killer Company,  4x Long 45mm
9pts Heavy Tank-Killer Company, 2x 57mm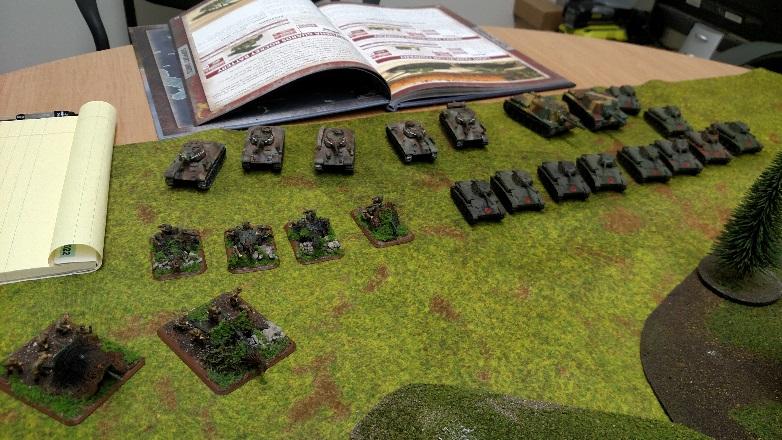 Brian's Iron Cross Panzer III Company with Ghost Panzer Support
16pts Panzer III (Uparmoured) Tank Company HQ, 2x Panzer III
15pts Panzer III Tank Platoon, 3x Panzer III (short 5cm)
15pts Panzer III Tank Platoon, 3x Panzer III (short 5cm)
10pts Panzer II Light Tank Platoon, 5x Panzer II
39pts StuG (late) Assault Gun Platoon, 3x StuG (late 7.5cm)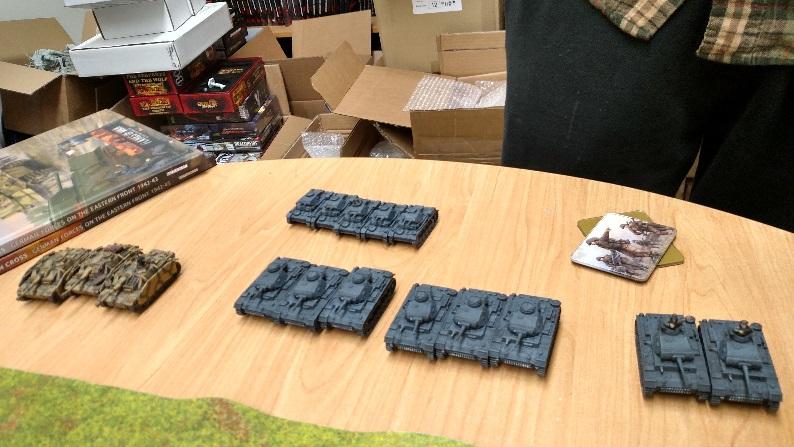 We decide to try out some of the new lists and threw together an interesting Free For All.  I positioned the SU-152 in the middle with both AT gun groups on the left in cover facing the PzIIs and StuGs, both tank groups on the left facing his PzIII tanks.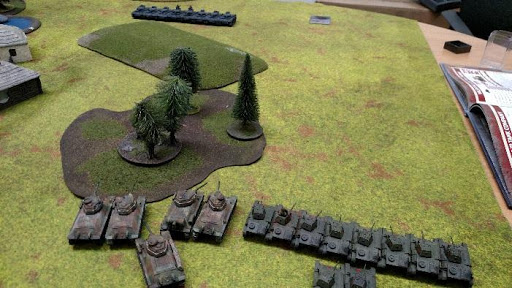 The 45s moved up through the trees with no problem on the left while the tanks moved forward to get shots on the right.  There must have been a brisk breeze because nothing hit on the first turn. Brian then blitzed every unit he had (successfully) and returned fire much more effectively, killing both 57s on the left, one T-34 in the middle and two T-70s on the right.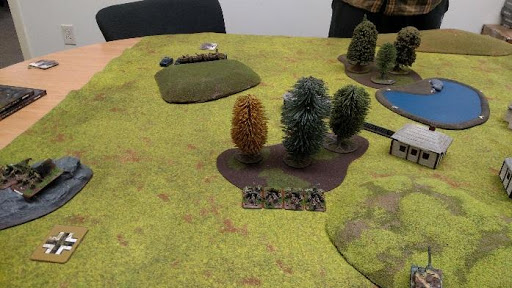 The 45s then blitzed to the side and engaged the Pz IIs killing one and bailing one.  The T-34s killed a Pz III in the Hq and the T-70s on the right moved forward to get side shots but missed entirely.  My SU-152s moved to the left side and engaged the Stugs, missing both shots.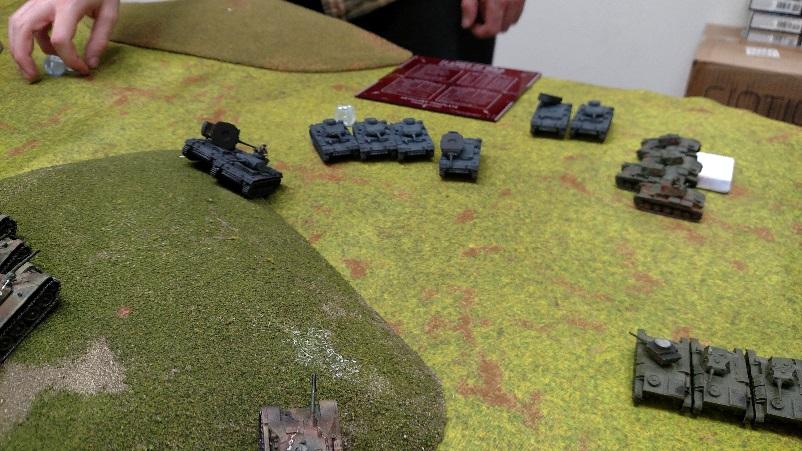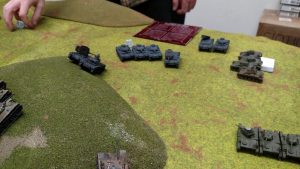 Brian then, in true form, killed one and bailed one with his Stugs. His Pz II attempted to get in the woods and assault the 45s, but only succeeded in getting one before breaking off.  On the right his PzIIIs kill three T-70s and bailed two.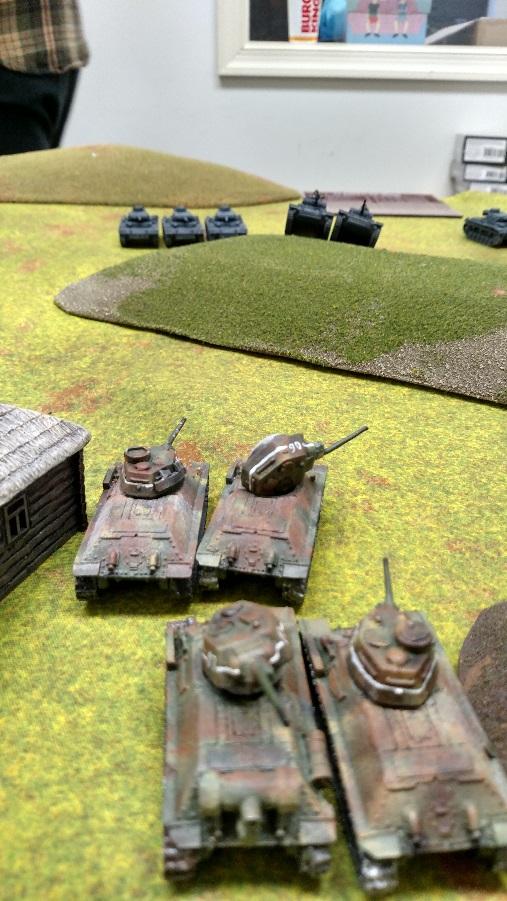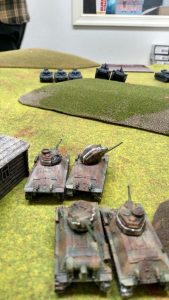 Needless to say, with my luck, my SU-152 ran away, leaving two poor 45s all by themselves on the flank. Time to try to kill some platoons and break the company.  The 45s kill a Pz II and Bail another while the T-70s get in and bail one of the HQ Pz III. The T-34s move forward and kill two Pz IIIs in the send platoon. Return fire is substandard this time, but succeed in bailing all T-70s.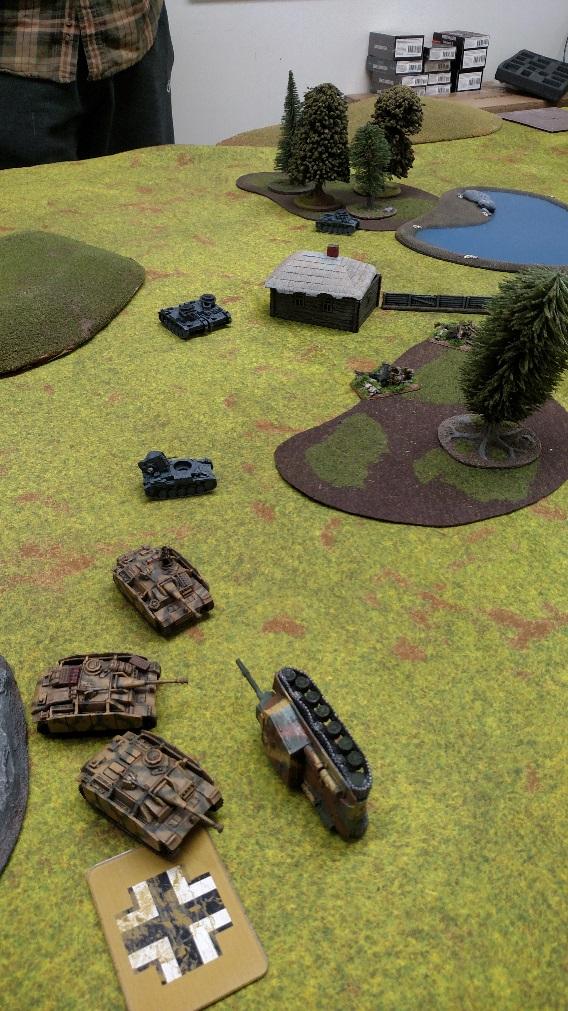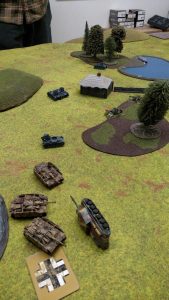 The T-70s run leaving only the T-34s on the field with a couple 45s, which drive off the Pz IIs. Unfortunately Brian makes all the rest of his morale rolls and the company stays intact with his Stugs on the objective.
8-1 victory to the Germans.  It will take some work to get used to the overworked issue on all the units, although the better save on the AT guns are a relief and kept them in the fight.
I don't think I will let Brian use my dice again.