with Alexander Nebesky

Following on from Chris' handy article during the Enemy at the Gates launch (which you can find here), we've put together an addendum article to help with the new Soviet infantry units from Red Banner. Red Banner brings with it three new Soviet infantry battalions for players to field, bringing the number of mid-war Soviet infantry formations up to five. This addendum to 'Human Waves to Storm Groups. What to Buy' will cover what box or blister you'll need to put together the infantry formations in Red Banner.

SBX50 contains 18x DP MG & M1891 rifle teams, 4x Command teams, 2x Komissar teams, 2x PTRD teams, 2x 50mm Mortar teams, 5x Maksim HMG teams, 2x Flame-thrower teams, 16x Unit Cards—all the things you need to put together the following units:
Motor Rifle Company
The Motor Rifle Company is much like the ubiquitous Rifle Company apart from the fact that a motorised battalion had no horses and anything not carried by the soldiers themselves was moved by trucks. On the table the Motor Rifle Company has a higher skill rating than the Rifle Company, but carries a more streamlined selection of weapons.

Hero Motor Rifle Company
Hero Motor Rifle Companies are made up of those men who survived long combat long enough to learn the hard lessons of war. As such, the Hero Motor Rifle Companies were afforded more machine-guns than their greener compatriots to match their comparatively higher level of tactical skill.
Reconnaissance Platoon
Reconnaissance Platoons were employed by the Soviets to advance until they crashed headlong into the enemy. At that point, they would overcome and destroy the enemy and allow the advancing columns behind them to continue uninterrupted. Reconnaissance Platoons use rifles and machine-guns, with the option of a flamethrower for urban combat.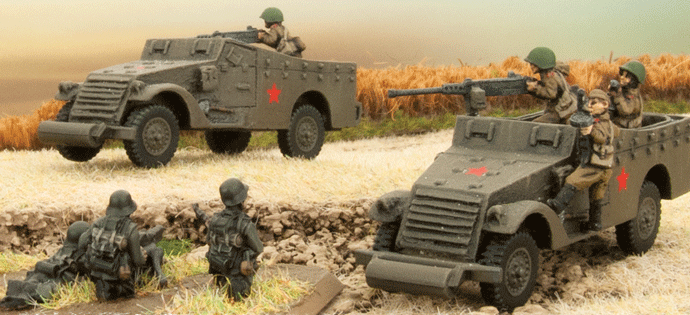 SBX51 contains 21x PPSh SMG teams, 2x Command teams, 2x Flamethrower teams, and 8X unit cards. SBX51 is used to make the following units from Red Banner:
Hero SMG Company
The Hero SMG Company, like the Hero Motor Rifle Company, has seen enough action to be whittled down to a battle-hardened core. Armed with the impressive PPSh SMG, the Hero SMG Company is called on for fearsome hand-to-hand combat.
Armoured Reconnaissance Platoon
Mounted in lend-lease armoured cars or half-tracks, the Armoured Reconnaissance Platoon is the main assault element of a Soviet Reconnaissance Company. The Armoured Reconnaissance Platoon is Tasked with closing the ground and assaulting the enemy ahead of the main Soviet forces.
These options make up all the new infantry additions from Red Banner, and hopefully this additional piece will help make choosing your infantry purchases straightforward and simple.