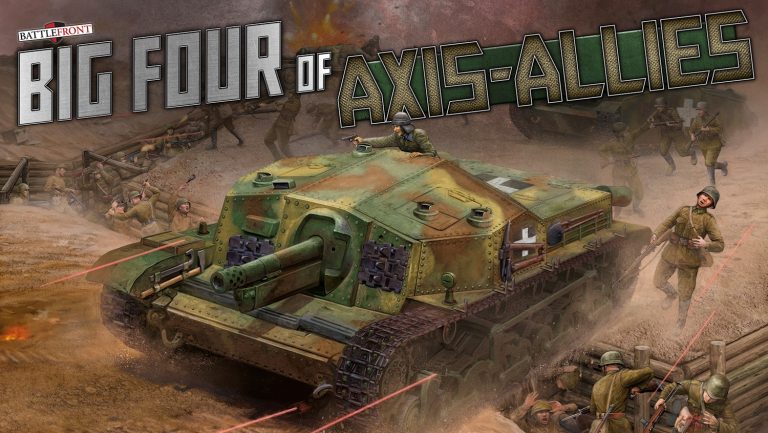 The Big Four of Late-War got excited about Bagration: Axis-Allies. They're preparing new armies, add-ons to old forces, and even some terrain. Check out some of the work they've in the articles and links below!
---
Switching Sides: A Romanian Detour
If you spent any time in the Battlefront Studio over the past 8 or so years it would come as no surprise that a number of us have soft spots for the Finns, Hungarians and Romanians. Whilst they may not be one of the "Big Four" nations many of us have built Axis Allies armies of the years; from Andrew's winter Finns, to Victor's, Wayne's, and my Hungarian armies, to a Mid War Romanian army that I painted before joining the team. Needless to say when Victor suggested a small detour project I thought "Why not!" The only question was what do do?
Switching Sides: A Romanian Detour…
---
Another Trip Around The Hun
My first book as a Graphic Designer at Battlefront was 'Stalin's Europe' back in 2010. This was the first book to introduce Hungarians to Late War, and they were my first Flames Of War army.
---
StuG (Sturmi) Life!
I got into the office late one day and Victor ambushed me and said "Chris and I have been talking, and we're doing an Axis-Allies detour… and by the way, you're doing the Finns… all you need to paint is 11 Sturmis", and just like that I had another army to paint.
Everyone has or needs a gaming friend like Victor 'The Enabler' Pesch.
As it so happens, I was actually already tempted to do a Finnish army at some point anyway, this just moved it up the schedule. Finns are an often romanticized army, reflecting their David versus Goliath struggle that we all love, which is why they've always been a popular and requested army in Flames Of War. I've personally been interested in them since watching Talvisota (The Winter War) about 15 years ago, I've just never had the time to paint the army.
---
Huszár
I've been collecting and painting Hungarian forces since the we first published out first Flames Of War Hungarian intelligence briefing back under the 2nd Edition of the Flames Of War Rules. With both the Bagration: Axis Allies for Late-war, and Hungarian Steel for Mid-war coming out I thought I'd revisit my Hungarian forces and see what more I can add. The new plastic Zrínyi is very tempting, and I'm sure I will paint a few of them, but I have one glaring hole in my collection, some cavalry. The Hungarians are famous for their horsemanship as well as being the inspiration for the introduction of a type of light cavalry to armies across Europe, the Hussar, or Huszár in Hungarian.

Here's my finished Zrínyi Assault Gun Battery. I love this little assault gun. It's like a Semovente on steroids, or a StuG trying to hide behind a wall…
I chose to go with plain green as I thought the shape and details of the kits are interesting enough (glorious rivets!), and I think it helps the markings stand out. However, part of me is still tempted to do a second formation one day in 3 colour camo.