With Chris
One of the fun things about a new book hitting the shelves is taking a look at the armies you previously built but have since been eclipsed by something newer and therefore shinier. One of the unloved boxes in my cabinet just happens to be a Light SP Artillery Regiment and having a reason just to pull it off the shelf and check out the models has been a source of joy this week!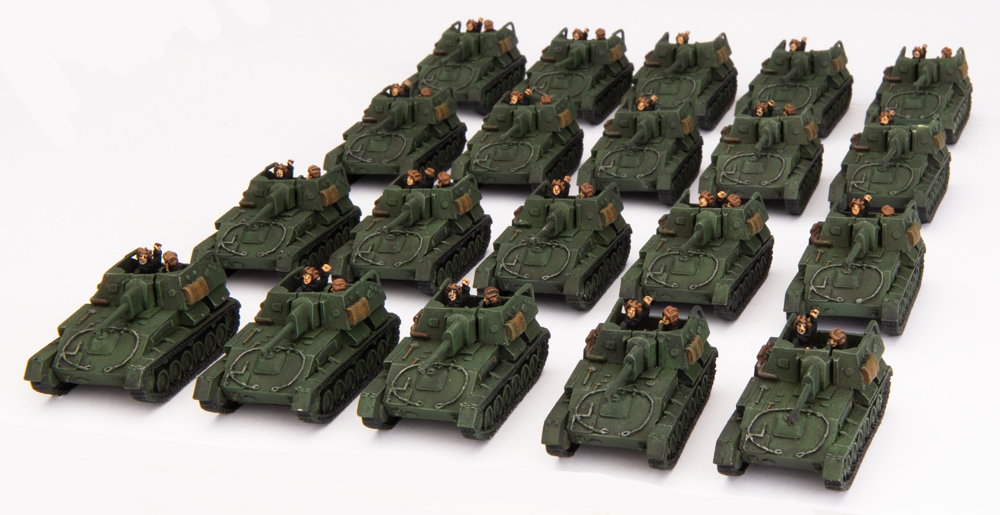 The original army was built to a fairly straight forward specification, how many SU-76s can I put in the list. After all more tanks is a good thing when it comes to a Soviet list. I was under no illusions though and I certainly understood that SU-76s were not going to get the job done by themselves so I remember painting up some IS-2 tanks for a little extra firepower and to have something with some armour in my force. BA-64s were (of course) included as you always needed recon under V3. It is too long ago to remember what else was in there but I can recall the one major tournament that I took it too and let me tell you, it was a FUN list. There was something about having 20 pairs of 76mm guns, each more than capable of knocking out a Sherman or Panzer IV. Having so many of them also meant that I could afford to be a little reckless – they even assaulted some infantry off an objective, or maybe they tried… It is my story so I am going to say it ended well, the commanders were presented medals and they were not wiped out by the defending troops (which is more likely!)…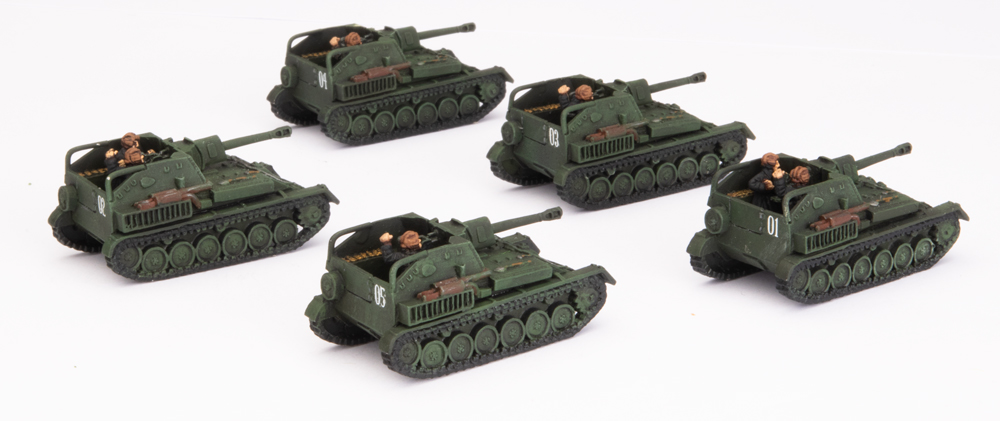 Taking a look at the SU-76 under the Bagration: Soviet book and they are really interesting having gone through a stat overhaul in some areas. They are still a moving piece of tissue paper with armour 4 and top armour 0. They are relatively skilled (4+) so whilst they cannot be counted on to do anything too tricky it is worth trusting the dice for a Blitz or Shoot and Scoot (especially if you have the Make Your Own Luck Command Card!). Their 76mm gun has gained an Artillery stat line which means that the days of having to drive up to gun lines and duel it out are gone, instead it is raining HE all day! Best of all they are only 13 points for a platoon!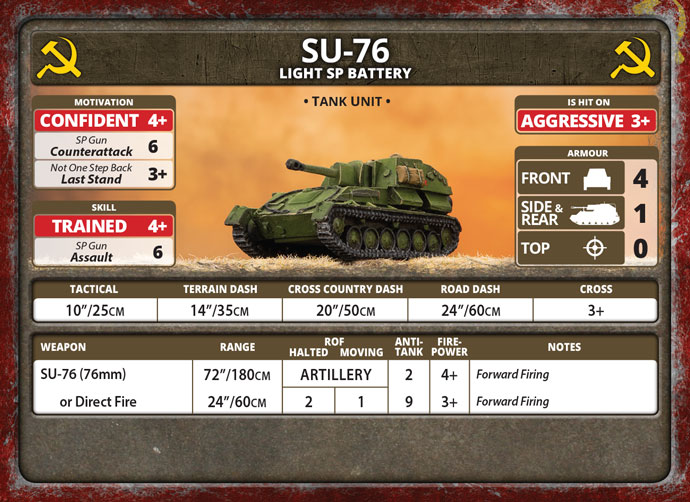 My plan for V4 remains largely unchanged from V3, mainly because it is completely hypothetical at this stage. Start with a full force of SU-76 "tanks". I have all of these painted so it seems like a waste to not use them, and I really love the little things. Add in a Hero SMG Company with my favourite Command Card, Hero Tankodesantniki, so they can jump on board some tanks and ride into the teeth of the enemy and deliver close range SMG fire and grenades. Speaking of tanks… you know what is coming next… IS-2 platoon! I originally painted seven but only have the points spare for four right now. That still gives me an awesome little threat unit and with the Hero SMG unit on top comes out to an even 40 points – hello Reserve unit.

Rounding out the force are a couple of old friends, the ZSU platoon with their meat chopping .50cals and a unit of BA-64 armoured cars. With armour like a damp sock the SU-76s need to be in an optimal position as soon as possible so a quick Spearhead up with the BA-64s should help considerably.
Rounding out the force is the Lucky Command Card. Or as I call it, the first point that I spend in most of my lists.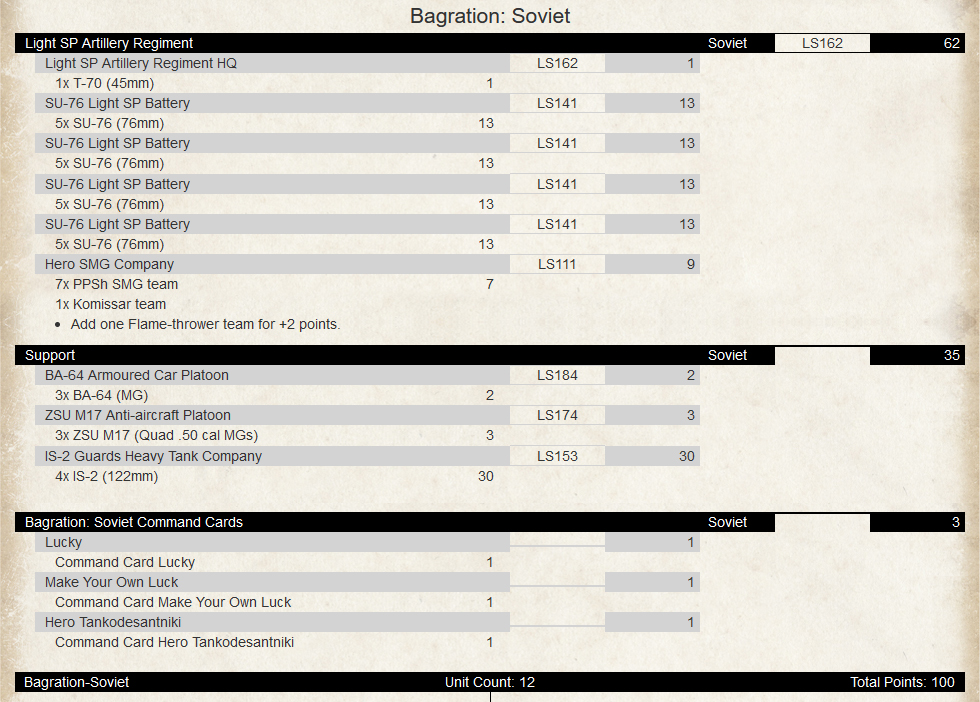 Is this a tournament winning force? Unlikely, and certainly not in my hands. Is it fun, filled with interesting models and has the ability to throw a wrench in someone else's plans? Absolutely!
~Chris