With John Lee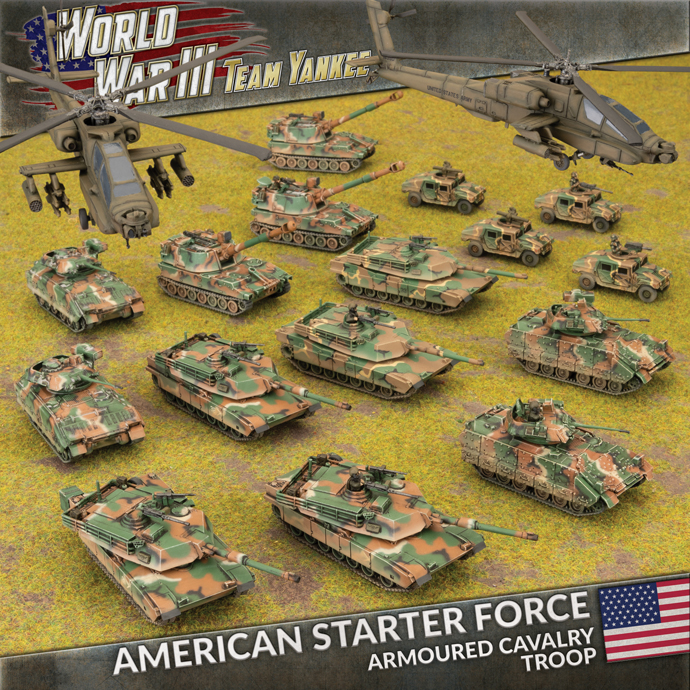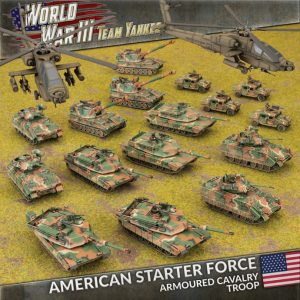 With the launch of the WW3 American, I thought I would take a look at how could a new player or someone on a budget, get a force on the table that would be competitive or at least hold its own with such iconic equipment as the Abrams, Bradley and Apache helicopter.  For the new player, it opens the door to playing WW3 without needing to buy, assemble or paint too much and get into playing the game quicker.
So, if we look at what we get in the excellent value starter set, that might help decide what formation to run.  The starter set contains the following:
Complete A5 Rulebook
American "Start Here" booklet
5 x Abrams Tanks
4 x Bradley IFVs
3 x M109 155mm Self Propelled Guns
4 x HMMWV
2 x AH-64 Apache Helicopters with rare earth magnets and flight stands
4 x Decal Sheets
14 x Unit Cards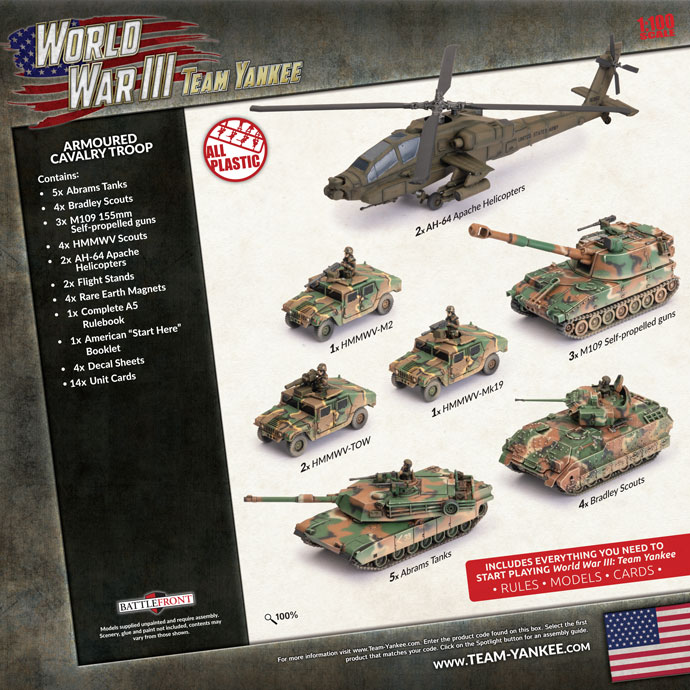 The bonus here is that the rulebook is included in the box – so the new player makes a saving right away.  Now if we look at what formations are in the WW3: American book, we can see what we can maximize from what we get in the starter box.  The best formation to maximize this is the M3 Bradley Armored Cavalry Troop.  Let us look at what units comprise this formation:
1 HQ (Either M3 Bradley, M1 Abrams, M1A1 Abrams)
2-6 M3 Bradley Scout Section
1-3 Tank Platoon (M1 Abrams or M1A1 Abrams)
0-1 M106 Cavalry Mortar Platoon
0-1 M109 Field Artillery Battery
0-1 Attack Helicopter Platoon (AH-64 Apache or AH-1 Cobra)
0-1 UH-1 Huey Rifle Platoon
I like this formation a lot – combined arms – even includes helicopters!  Looking at the formation and what we get in the starter box, we can use everything for the formation except for the Humvees.  That is an amazing start.  I do have a plan for the Humvees though as we explore later in the support part of building two lists – one at the standard 100pts and one at the 2020 US 120pts (exactly the same list but using our smarts to change out the type of Abrams between the two).
OK – lets build a rounded out 120pt list to start with.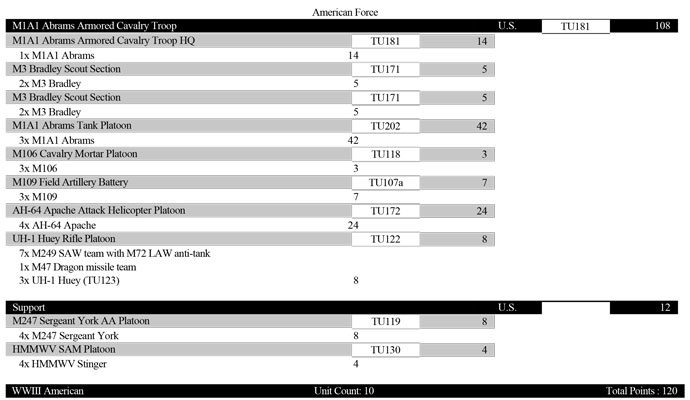 The UH-1 Huey's are optional as you will only really use them if you plan to transport the infantry across from one side of the board to the other – so is a consideration for not purchasing right away.
Adding in the AA options in the support section you now have used the Humvees from the starter box.  To run the list at 100pts just run the M1A1 Abrams as IPM1 Abrams.  5pts less each and with four in the formation equals 20pts.  Done.  You can use the M1A1s to represent IPM1s and just let your opponent know – should not be a problem.

Looking at the composition of the force we have several units that are multi or dual role.  M3 Bradley's can take out helicopters, light vehicles, infantry with its Bushmaster 25mm AT8, and tanks with its AT23 missile and can spearhead and has scout!  M247 Sergeant York can take on aircraft and light vehicles, infantry with its ROF5/4 AT7 40mm gun.  The apache is a beast with its AT25 hellfire missiles, ROF 6/3 AT8 30mm chain gun and is hard to shoot down.  Two artillery options to dig out infantry.  M1A1 or IPM1 Abrams to duke it out with other tanks and/or assaults.
With reserves at 48pts for 120pt army you would put the M1A1 Abrams platoon and either the M109 Artillery Battery, UH-1 Huey Rifle Platoon or M247 Sergeant York AA Platoon depending on the mission. For the 100pt army probably the IPM1 Abrams and AH-64 Apaches.
To buy this army you need to only purchase the following for under $300:
| | |
| --- | --- |
| 1 x TUSAB04 Starter Box | 100 |
| 1 x TUBX03 M113 Platoon | 36 |
| 1 x TUBX10 M247 Sergeant York AA Platoon | 54 |
| 1 x TUBX13 Rifle Platoon | 30 |
| 1 x TUBX21 AH-64 Apache Helicopter | 35 |
| 1 x WW3-03 World War III: American Book | 20 |
| Total | 275 |
An easy option and versatile option to get into WW3 that is great on the budget and gives you the most bang for your buck starting a new force.  Its also easy from here to expand on what you have already to play other formations.  Enjoy!
~John