with Victor Pesch (Battlefront NZ)
I'm currently starting a new force from D-Day: German, the Fallschirmjäger StuG Assault Gun Company. Instead of having it themed for Normandy, I'm using it to represent Fallschirmjäger & StuGs in the Italian Campaign.
Here's how I'm painting the new Late-War Plastic Fallschirmjäger figures for my Italy themed platoon in tropical uniforms.
Basecoat




First I primed the figures with a black rattle can. Then to speed things up I airbrushed the figures Khaki. This gave me a light base colour to work over rather than trying to paint beige / tan over the black primer. It also meant I could drybrush on the German Camo Beige for the smocks to create initial shading. Then I simply block painted all the items, trying to be as neat as possible.
Wash




This step is simple as I just cover the entire figure with Black Wash. This darkens everything quite a lot, but I like the way it defines all the elements. It also makes it easy to re highlight with the same base colours without having to find lighter shades.
Highlights




As mentioned above, I generally go back with the base colours and highlight the raised surfaces of everything. Then I sometimes do a second highlight with a different colour on some items.
See below for all the colours I used, but feel free to experiment with your own: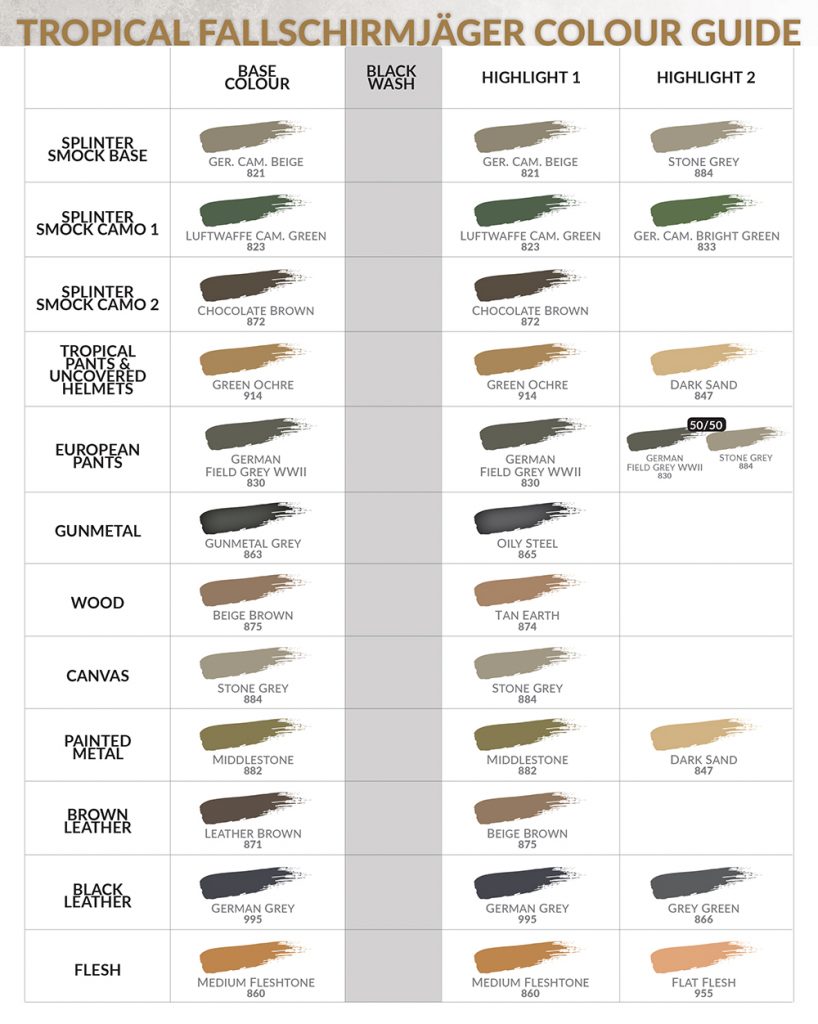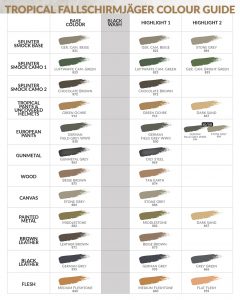 Quick Tip- Worn Leather



A simple way to achieve a worn leather look on straps and bags is to gently dab the edges with a lighter colour. It's like an edge highlight but the dabbing action gives it a more irregular, worn look.
Now that I've figured out my colour choices, I've got a lot more figures to paint, and also all the StuGs! I think the platoon will look quite interesting with it's mix of yellow and field grey pants, and the yellow un covered helmets.
Speaking of uncovered helmets, one last tip: Sponge on some German grey to show the yellow paint chipping off.