With Chris Allen
With World War III: American being released there are a ton of new and exciting options available for players. From new Formations, to new variants and weapons players are spoiled for options and this definitely extends to the support options commanders can choose from. Few things are as connected to victory on the modern battlefield as artillery and so we'll take a quick look at the new kid on the block the M270 MLRS and compare it to the workhorse of fire support the M109.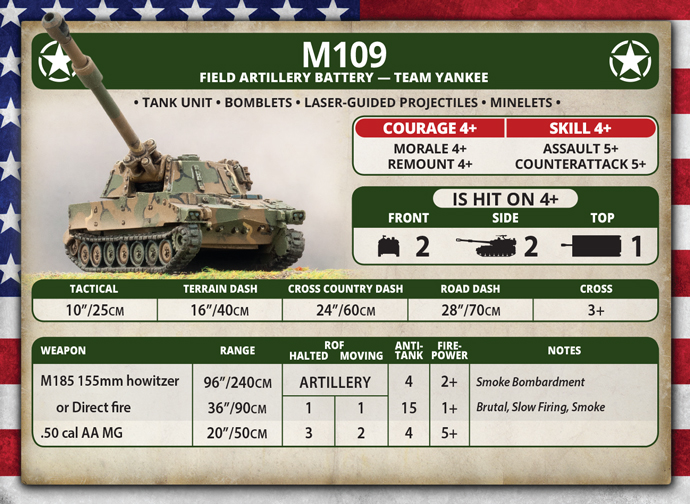 American players have had the supporting fire of M109s since the beginning of the game. It's a tried and tested unit that provides a lot of flexibility for commanders. Its 155mm shells provide AT 4 artillery fire with a 2+ Firepower, it's solid. It's got pretty solid armour for a self-propelled artillery system, has smoke and the option for specialist rounds like DPICM, Minelets and copperhead rounds. Fully kitted out this unit is a high end swiss army knife, it can do it all, or be taken without upgrades to provide good old direct fire support to your combat teams.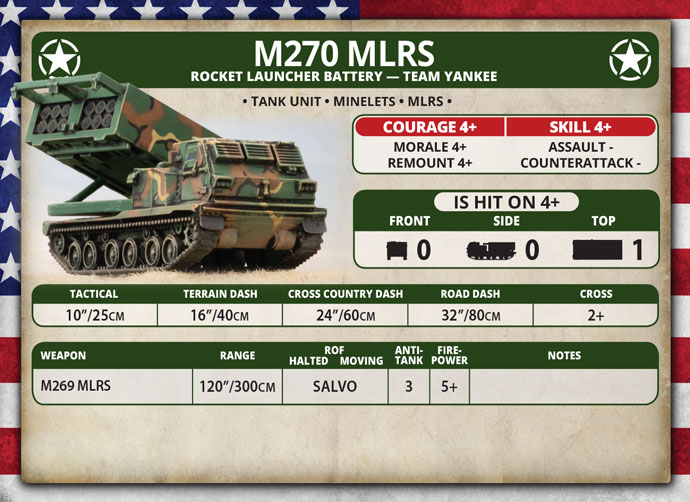 The M270 MLRS is the new big fire support option for U.S. forces. While it came out with Team Yankee British, the MLRS is going to be available for the British, American and German forces. This new artillery system provides a few things for the American forces in World War Three, not the least of which is a really sweet model. I'm a big fan of the look of MLRS systems and with the armoured cabin and huge rocket bank I was in from the moment it was released.
Looking at the M270 MLRS' stats there's nothing huge to immediately write home about. Lightly armoured it's just beyond unarmoured with 0/0/1, it can take Minelets for 1 point and has a AT of 3 with a 5+ FP on it's Salvo. This is where a lot of people write off this vehicle, but there is a lot more under the hood than most people see. In my opinion the largest negative is that the MLRS cannot provide a smokescreen and so loses some flexibility.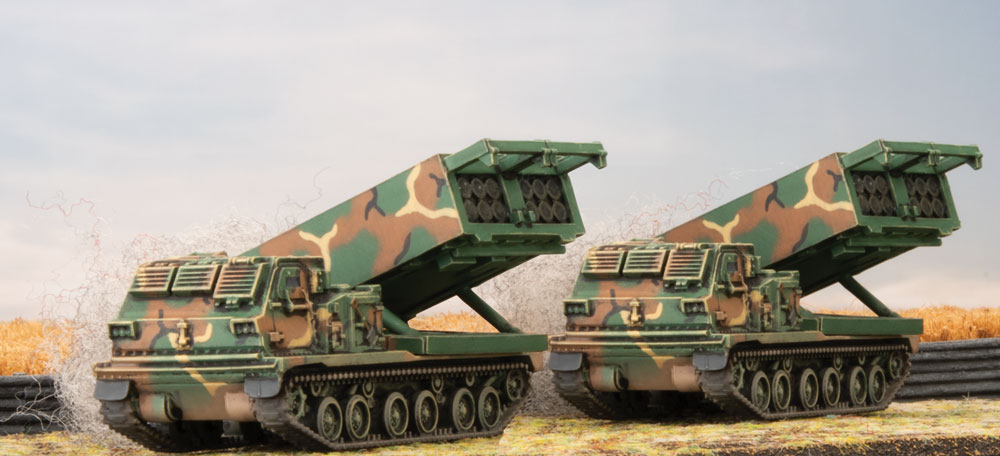 Another unit with mines is always amazing. The MLRS is about board control, plain and simple this unit helps you dominate table space more than anything else, and mines are a great way to do this. With the MLRS rule letting 3 teams count as 6 you can drop 2 minefield tokens and cover a key gap, or route forcing your opponent to make tough decisions.
Salvo fire is huge. People always forget just how big salvo fire is. An artillery template is 6"x 6" or 36 square inches, the Salvo template at 10"x 10" provides 100 square inches, or just under three times the area enabling it to hit a lot more targets. The downside to this is almost all of your shots will cover terrain features and as such will be harder to rang in. An MLRS battery really loves having an M113 FIST team to make sure it can range in on 4s if you're planning on repositioning it or using the mines.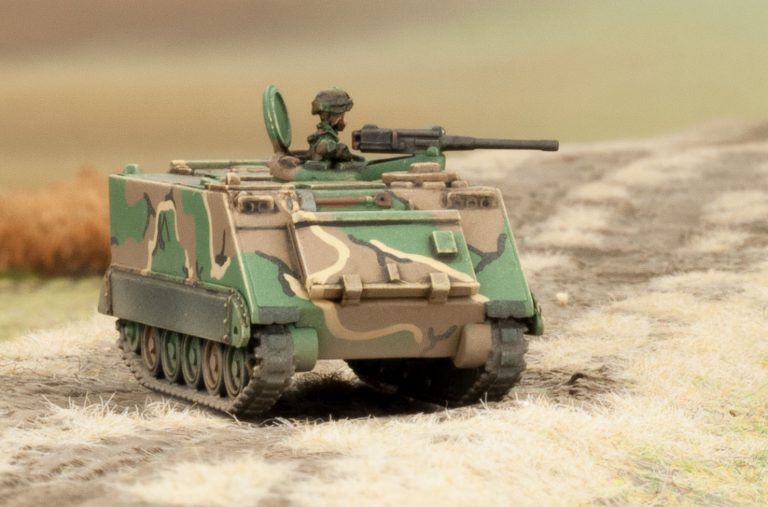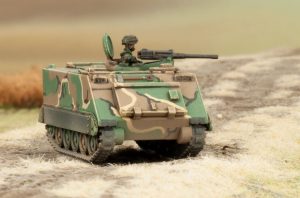 The MLRS rule makes each team firing count as 2 teams, so your three-team battery of MLRS for 9pts fires as six teams and rerolls all misses to hit. When you compare this to a similar pointed unit like the minimum M109 unit at 7pts you start to see how effective this system can be. Rerolling all misses in three times the area gives you dominating fires. This is especially effective against infantry and unarmoured tank teams that a single hit will also pin, but enough AT 3 against top armour will put dents in a lot of armoured units.
The firepower as we initially discussed is what commonly turns people off of the MLRS, at 5+ it looks like it'll be ineffective but when you start to run the numbers the MLRS more than holds its own.
The table below describes the likelihood of any team under the respective artillery or salvo template being hit, infantry dying, dying to a repeat bombardment and the same for dug in against 3+ to hit and 4+ to hit infantry.
3+ to Hit

System
To hit
Inf Fail
Repeat
Dug in
Repeat
MLRS X3
88.9%
29.6%
49.9%
9.9%
16.5%
M109 x3
66.7%
22.2%
37.0%
18.5%
30.9%
4+ to hit

System
To hit
Inf fail
Repeat
Dug in
Repeat
MLRS X3
75%
25%
41.7%
8.3%
13.9%
M109 x3
50.0%
16.7%
27.8%
13.9%
23.1%
The MLRS rule drives your hit percentage up massively, and it provides a bigger advantage against harder to hit teams like 4+ infantry or teams out of line of sight. This translates to more infantry kills in the open, providing kills almost ⅓ of the time against Soviet and other 3+ to hit infantry and ¼ of the time against 4+ infantry. With the size advantage salvo brings, you are hitting almost 3 times as much area, letting you hit more teams, more often, potentially multiple units, and then killing more often.
Against dug in teams the 5+ fire power is a detriment, but hitting teams more often brings the numbers up and you find that the MLRS is roughly half as effective at killing dug in teams as the M109. When you remember that the system hits almost three times the area this evens out pretty nicely. The area advantage is where the MLRS shines, as it can almost completely cover the area where defenders can hold an objective from the start of the game. This lets you blanket the area and just bath the enemy in fires until they move or die. Few players will leave units to sit under a template all game, and those that do will regret it.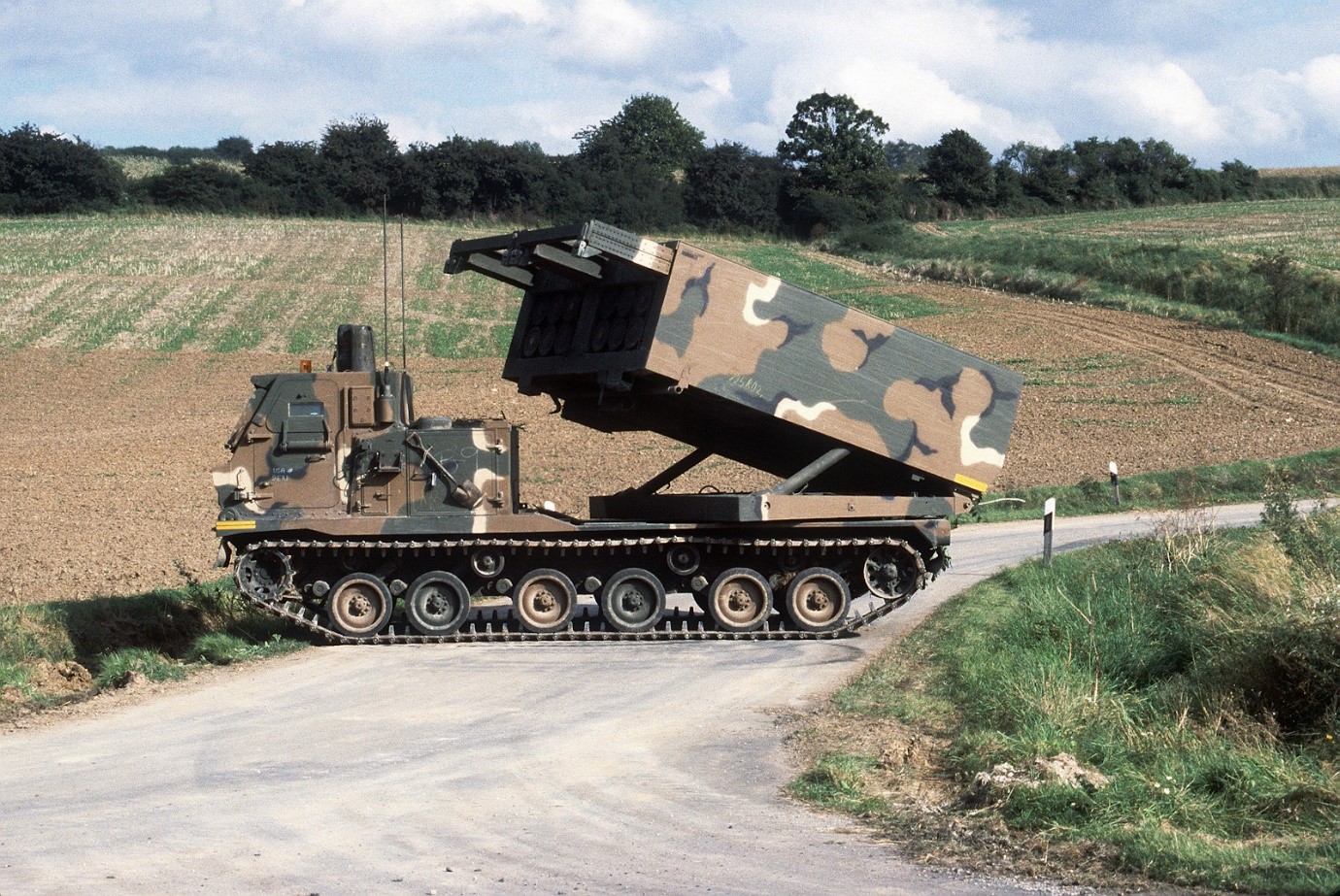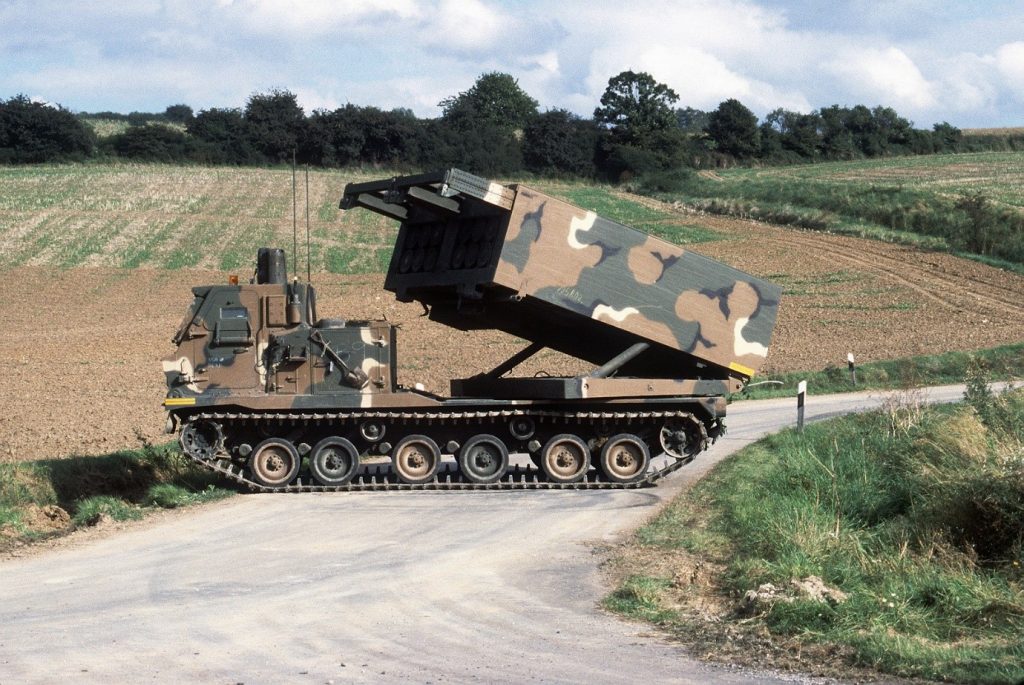 If an MLRS system is targeting an objective and given multiple turns to fire, there isn't going to be much left to defend the objective and paired with robust reserves like the new M1A1 Abrams you can have a game winning combination that is very hard to deal with.
MLRS also excels as a cut-off for all of the above reasons. With 100 square inches of table space covered if you protect an objective or key terrain with the MLRS template and call a repeat, on average about 50% of Soviet teams are going to die. That is a crushing level of fire that few forces can accept to take, and being pinned under that template and having it continue basically spells death for anything that doesn't make it out quickly. Making a no go zone for enemy infantry allows you to shape the battlefield and force players into a bad position.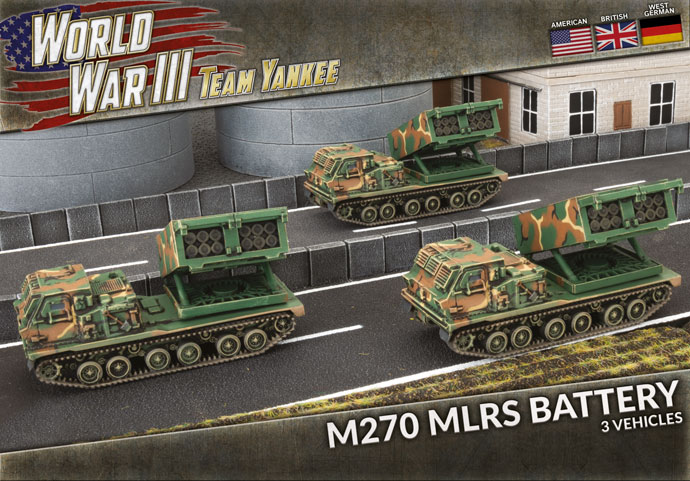 The M270 MLRS is a gem of a unit that adds another key tool to the American arsenal. Does it replace the M109? Nope not even close. But what it does is give you another option for how you want to take apart your opponents. The M109 provides dominating specific fires and a toolbox of ways to assist your army with specialist munitions while the M270 MLRS provides board control, being a murder machine for troops in the open and can truly perform area denial on its own because of this. What does this mean for American commanders? There is the right system available to support your battle plan waiting to be called upon to hit the table.
~Chris