With Chris Potter
It seems that every time I embark on a new Flames of War Late War Army, I tend to follow the same pattern – When building my Soviets, I watched far too much Enemy At The Gates and Downfall. For D-Day Americans, I started by watching Band of Brothers and get all worked up to paint as much Airborne infantry as I could lay my hands on! The 101st Airborne served me well in the drops over France, the fighting in the Bocage and even destroyed a trio of Tigers with Gammon Bombs, in one memorable battle in a small village near Carentan.

Later, I watched Saving Private Ryan and knew I just had to complete a Beach Assault Company. With a bag of sand and plenty of Desert Yellow paint; the 29th Infantry Division were put to battle, and successfully managed to not only Hit The Beach against stalwart German Beach Defenders on our launch weekend for D-Day German book, but the boys from the Blues and Greys rolled them up on a dash for the objective with only a few casualties from errant Mortars.
And so I find myself at the Crossroads at Bastogne with the Bulge: American book. Paratroopers from Normandy have served me well, but I feel the itch to paint some more with snowy bases… Helpfully in my stash pile I have a blister of US Paras in winter clothing from many many moons ago to continue my airborne journey through late war; as well as some old Resin Easy Eights and Hellcats lurking in the drawer too… Then whilst reading the background books on my shelf at home, as well as the new Osprey books that arrived from Amazon, the idea formed for me to build my new army. The pattern is complete…
There are a couple of pre-conditions this time around however. Having painted not only x2 full US Infantry forces (which is a lot of infantry stands) in the past year, I have painted a Full LW and MW Fallschrimjager Force, a Soviet Army for Bagration (more infantry than I thought possible to squeeze into 100pts…) and a small Hungarian MW Cavalry Force to round off 2021 to date. Thus:
The list needs to be tank/AFV heavy in it's primary formation. I simply cannot paint much more infantry than maybe small company until my poor rested eyes have forgiven me! Plus, this list needs to be smaller in model count, as eventually I want to attend some shows. My plan is to fit the army into one or two figure trays from the Army Bags available on the BF website
I want artillery in the list somewhere, since Normandy showed me what Arty can do to an opposing force. As I was on the end of it last time, this time the tables will turn. The ETO is firmly on the defensive for the Axis, so I need to maximise my opportunities to win the battle. The Americans have some very interesting Artillery to choose from
Reading through the book, the Easy Eights and Jumbos look rather tasty and are a great new addition to Sherman companies, giving some great options to mix up the firepower. I need some of those in the list – just to try them out if nothing else!
M18 Hellcats are FAST. I didn't realise just how fast until we play-tested the new book. Definitely need some of these regardless of space and points, again to maximise firepower and the search & destroy doctrine to kill German Panthers and Panzers.

With these points in mind, off I went to build my army list and present a new force to our lunchtime games in the office. The plan is also to try and get an army that is flexible, as well as competitive. I am a long way from tournament META planning (too much lockdown, not enough game time) but I am ready to build an army that appeals to me!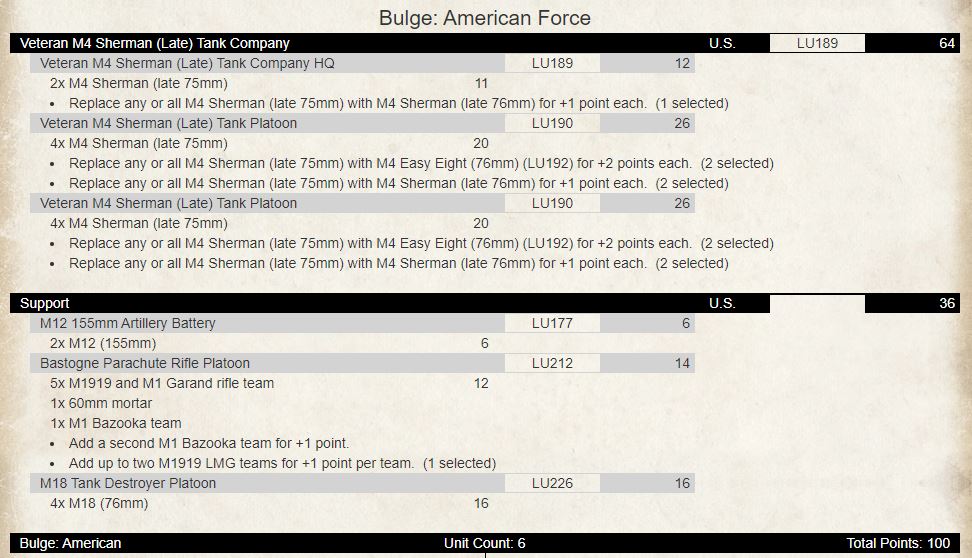 The list here appeals to me for several reasons. First and foremost, the model count is low. I won't get bogged down with too much painting. Second, the fact I have managed to squeeze in x10 M4A3 Shermans of various types, as well as the M18 Hellcats and the M12 Artillery, means visually the force will look great attacking through the snow covered Ardennes. The M12 are great at laying down covering fire, or in a pinch direct fire against Tigers and other heavy armour. The M18 Hellcats can scoot around the edges, driving into the enemy flanks and picking off targets at will, then getting out of the danger-zone. And finally with the Infantry support, means the list is still a combined-arms force that should be flexible enough for me to be able to adapt to most missions that I encounter, as well as being competitive enough that I don't retain the reputation of more losses than wins (my Hobby League W/L ratio was sadly not positive…)
So next up is begging, borrowing and scrounging the models, to get a head start on building and painting them before the book launches. My greatest asset here is Battlefront have recently teamed up once again with Vallejo Paints. Available now are several paint sets geared toward armies from WW2 and WW3, which have all the colours I need for my army. Alongside the new Colours of War book which has a tonne of ideas, guides and information for gamers and modellers; I am primed and ready to go with this new project. So, the plan is to settle in with my background reading of the entire Battle of the Bulge for that complete experience and to get a feel for the new force, get the Battle of Foy episode of Band of Brothers playing on the iPad and crack on with the latest boys from Currahee and their armoured brethren… It's going to be a busy few weeks! And when the plastic Easy Eights, Jumbos and Hellcats arrive in the office, I will be first in the queue to get a few sets for the army!