with Mike Haught
We originally published this article during the Enemy At The Gates Live Launch, but it is still relevant today with the launch of the Bagration: Soviet book. Whenever Mike talks about Stalingrad you think of the cities throughout Poland that were fortified and turned into defensive positions by the retreating German army as Operation Bagration relentlessly marched on…
From the very start of the Eastern Front projects we knew that urban combat was an essential part of the story of Stalingrad and wanted to include some city fighting rules. We also knew that city fighting generally comes with some barriers to entry, so we carefully marked out some design considerations to make city fighting accessible and fun.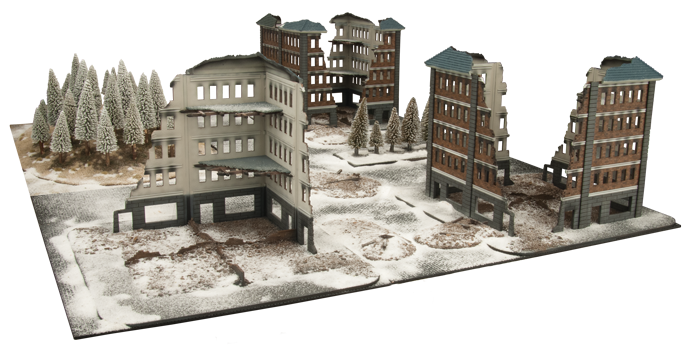 We wanted to make sure the rules played fast and focused on the action.
We wanted the narrative to focus the action on one or two key buildings.
We wanted urban table set ups to be achievable for the average player
We wanted to give players the ability to play city fighting games practically anywhere.
Streamlined Rules
Often city fighting rules games can take a lot of time and effort to use and detract from the fun. The terrain causes strange situations, raises questions, and generally adds a lot of administration time when you'd rather be just throwing grenades into rooms before storming it with flame-throwers and submachine-guns. So we wanted to focus on what matters in city fighting and tried a lot of things out.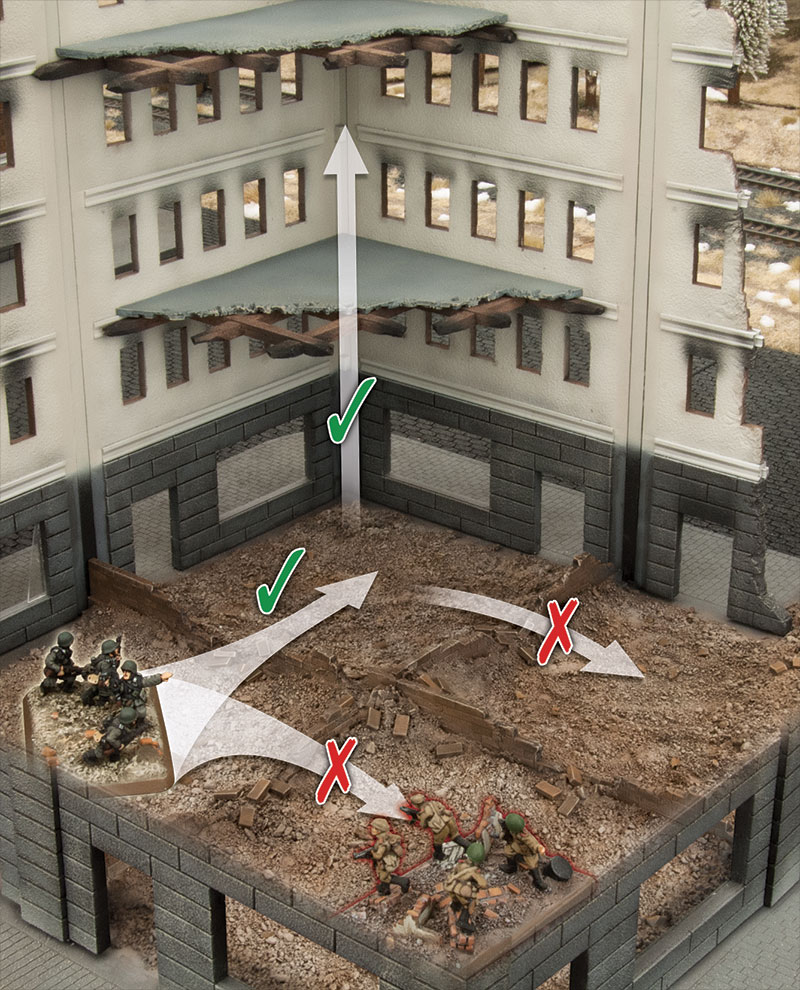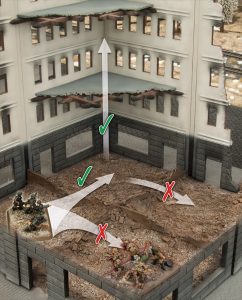 The breakthrough came when we freed ourselves from the burden of measured movement inside buildings. Getting tape measures into buildings to measure movement from room to room, up and down levels, and checking weapon ranges was simply taking up time and actually causing a lot of disruption by hitting models and tipping over the buildings. What really mattered about fighting in buildings were the rooms themselves. Everything happens between rooms and the position of teams in the rooms doesn't matter. It's a lot easier and more narrative to just point to a room and say "I'm going to assault that room from this one." and then just start rolling dice. It cuts straight to the action and lets you start throwing grenades, rather than measuring to see if that team in the corner could reach the doorway.
Key Buildings
When you read about Stalingrad, the stories you see are about key buildings like the Grain Elevator, the Red October Factory, or Pavlov's House. The buildings were as much a character in these fights as the soldiers themselves, shaping the fight as well as the battle's final outcome. We included four special missions in the Stalingrad books that let you recreate these fights. While they draw inspiration from actual fights for Stalingrad buildings, the missions are intentionally designed so that you can use them at any point in the war so you can use them for battles set in places like Leningrad, Arnhem, Cologne, Berlin, or even more remote urban areas like Tobruk.
Achievable Tables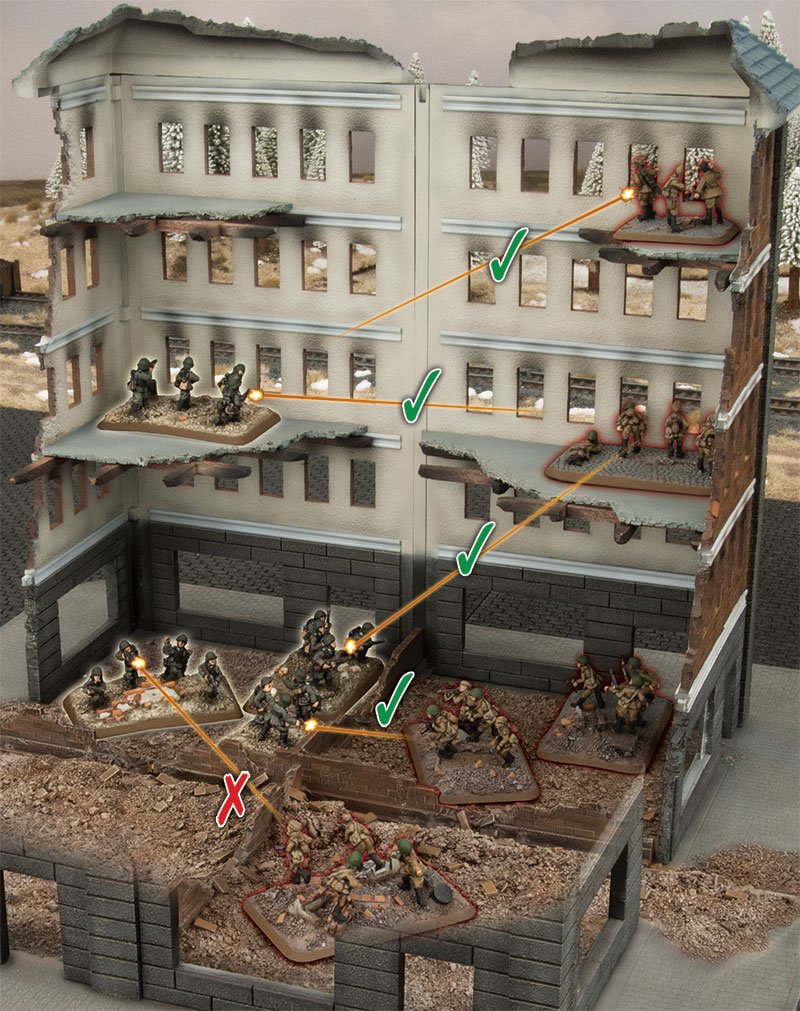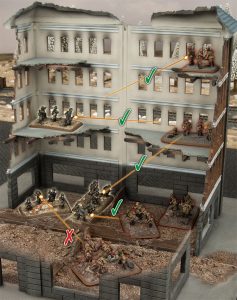 The common temptation or expectation is to always try and cover a whole table in buildings. While tables full of city terrain can certainly be done and look amazing, for many of us gamers, this creates a huge barrier to trying city fights. Having a full table of building terrain, is typically unattainable and often impractical for the normal gamer. So we wanted a solution that would work for both types of players. The terrain goal for playing the city fighting missions in the book is achievable and reusable. We limited the essential buildings for these missions to at least two complete buildings so you can get two building boxes and be ready to play. Of course you can add more to your table and play larger urban games if you'd like.
Kitchen Table Gaming
The nature of city fighting is that it takes a lot of troops fighting in a small area to get the job done. Every level in a building effectively doubles the gameplay space below it, so you can fit a lot more troops in a square foot than you would on other tables. This means that you can still use a normal sized force on a much smaller table, which opens up an interesting possibility. The urban fighting missions are designed for a 2'x3' (60x90cm) table, so you can play a game of Flames Of War wherever you have a table that size. For me, that includes my coffee table in my lounge or my dining room table. (Pro tip, make sure 19 month old children are properly stowed before using this product within 24"/60cm of the floor.) So if you've got that friend that you want to introduce the game to, here's a set of missions that you can use at your home to push them over the edge.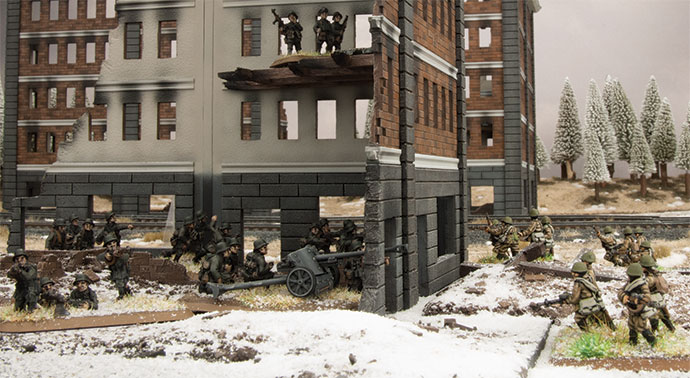 So that's it! If you've never tried urban fighting in Flames Of War, now's your chance. The rules are streamlined and narrative-focused, the terrain goal is achievable, and you don't need a lot of space to play. It's time to grab that bag of grenades and go clear that building!
Want to try out the new City Fighting rules for yourself?
City Fighting Rules PDF (right click, save as)…
~Mike