With Garry Wait
I have heard much confusion and discussion about the TOW missile and the new WWIII: American book. One of the most exciting things about the new book is not only the new toys but the options to get more mileage out of existing weapons systems. To my mind, the most fascinating upgrade is to TOW missile systems.
Let's look briefly at what TOW actually is before discussing how to get the most out of your TOW system in World War III.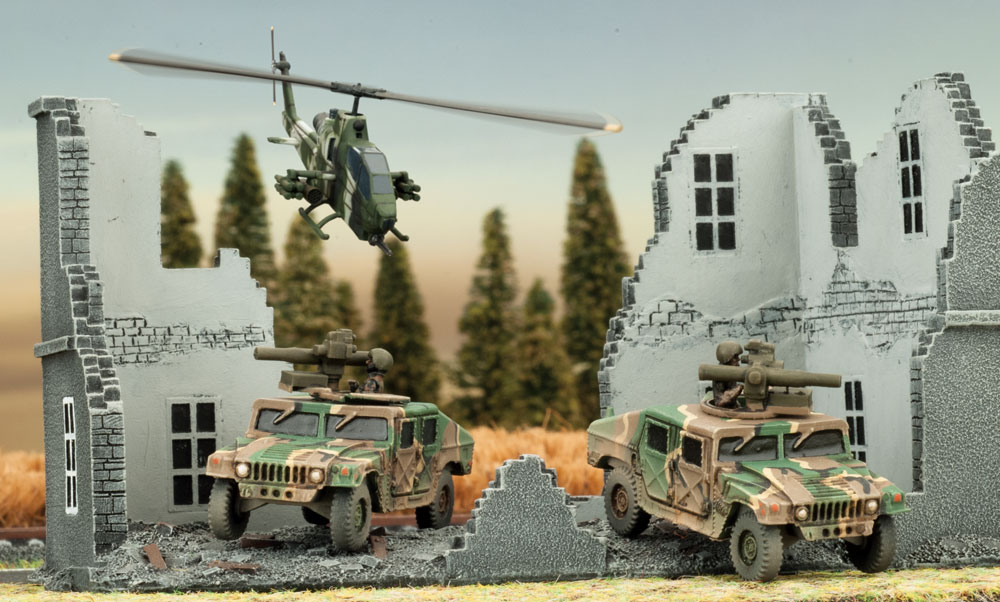 Initially produced by Hughes Helicopters and still produced to this day by US Company Raytheon, some fifty years after first produced.  The TOW system (which stands for "Tube-launched, Optically tracked, Wire Guided or TOW for short) was first produced in 1970, just in time to see trials in the tail end of the Vietnam War. The original BGM71A missile (to use it's US designation) saw action in 1972 when it was used on 24 April against of all things, a captured US made M41 light tank.  The original use of TOW saw mainly helicopter firings used although a ground mount was also available initially. The armoured solutions you see in World War III came along much later.  This early version had a range of some 3,000 metres and reduced armour penetration.
During the Cold War the Improved TOW BGM71C came out with better range and better AT through a new warhead, with the BGM71B (known as TOW-ER or Extended Range) being identical to BGM7A except for having the improved range of 3,750m.  This Improved TOW BGM71C missile is what was sold to various NATO forces as well as Israel and Iran in the Oil Wars book and represents a hugely successful system. With the base sight being thermal imaging as standard using the AN/TAS-4, as an all-weather weapon it is unsurpassed for production levels (although there is debate about whether this night sight was supplied to Iran).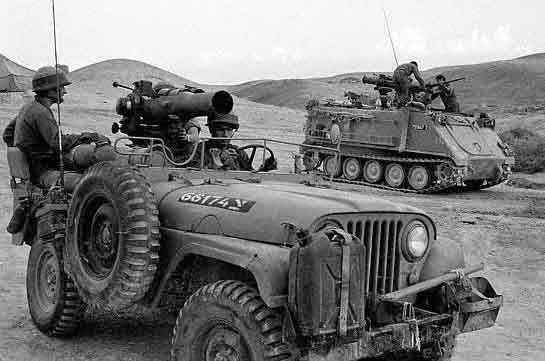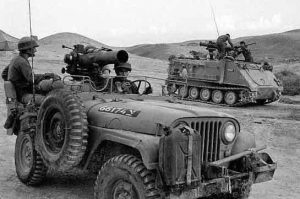 With AT21 and range 48"/120cm in game, the Improved TOW represents a threat to all but the most advanced tanks on the table and can account for anything up to Front Armour 18 reasonably in my experience.  The first outing for the Improved TOW was in Lebanon in 1982 where IDF General Peled's TOW jeeps exploited the vulnerabilities of Syrian T72's in spectacular fashion. This action saw up to nine T72's destroyed for no tank losses on the Israeli side.
(Read more about Peled and his Special Manoeuvre Force here)
Apart from US forces, the Improved TOW system is also available in game to British (Lynx Helicopter), Canadians (M150 TOW tank destroyers), Netherlands (YPR765 PRAT), Iranians (on AH1 Cobra, M113 and Jeep), Israelis (AH1 Cobra, M113 and Jeep) and West Germans (Jaguar 2).
That makes it a very widespread system indeed. In all cases, apart from the Iranians, it provides a thermal imaging system for the firing post which incrementally improves the weapons performance.
Now, in the new United States World War III book, we see the new BGM71D system, also known colloquially as the TOW-2. This new weapon has the same range but a bigger enlarged warhead that provides significantly better hitting power. The Improved TOW missile warhead was 141 cm long while the newer TOW-2 adds an additional 10cm of length, all of which is heavy explosive filler although both have the same 152mm (6") diameter warhead. This part is important as it means the TOW-2 is backwardly compatible with older launchers.
The new warhead offers AT23 which is a quantum leap forwards for democracy and freedom loving NATO forces and is introduced as standard on the M2 Bradley IFV (Infantry Fighting Vehicle) and M3 Bradley CFV (Cavalry Fighting Vehicle).  If you take any TOW-2, you must upgrade ALL other TOW launchers at a cost of one point extra per unit. So that means if you run AH-1 Cobras supporting a Bradley equipped Cavalry force, you need to up the cost by an additional one point per flight to accommodate the far more lethal TOW-2. Currently the TOW or TOW-2 system is available to the US Army in M2 and M3 Bradley, M901, HMMWV and AH-1 Cobra systems, while the USMC can use the same options in the HMMWV and the LAV-AT systems.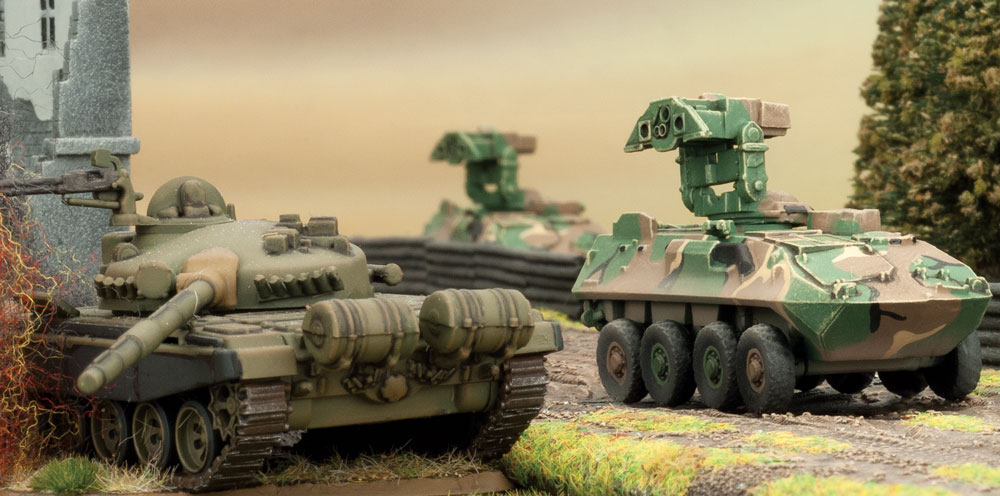 The only issue with the TOW system was the requirement to keep the seeker sight on the target to guide the weapon onto the unlucky focus of the operator. With a speed of 200 metres per second and two seconds to allow for the gyroscope stabilised warhead rocket to kick in, it is a nerve wracking 20 seconds to get to a target at maximum range, all the while with a heightened level of enemy attention upon the operator!
If you're facing some serious frontline enemy – or are involved in a NATO training exercise versus Challengers or other US forces – where you will be facing front armour of 19 or more, I'd recommend this as a small price to pay to keep your grunts comfortable in their fox holes. A well-run US force can accommodate the best missile in the game and the TOW-2 is clearly this with excellent range, hitting power and night vision to suit.  Nothing will scare a T-64 commander more than facing TOW-2 missiles which can comfortably outrange their main gun rounds.
At a pinch, you can even use it to clear enemy out of bunkers OR engage helicopters although I only recommend this after you've cleaned up the enemy's heavy armour.
If TOW-2 is so good, why wouldn't you buy it, I hear you ask?
In many cases it will be overkill. Against most Oil Wars forces – apart from our good friends in the IDF – you won't need the additional expense of the TOW-2. If facing T-72 or earlier model Soviet equipment, it's a proven fact that the Improved TOW is more than sufficient to deal with 1960's Soviet technology. Why waste a brand-new missile on an outdated ride?
When facing APC's, even the much-vaunted British Warrior IFV won't be any challenge for a US Improved TOW missile after all.
But much like the USSR in the Cold War, you need to balance the budget. TOW-2 is a lovely option to have available but may be a sledgehammer to smash open a walnut shell – capable but likely to leave a mess.
~Garry