with Phil Yates
(or, Phil talks about his On Again, Off Again Relationship with the Red Army's Tanks)
One of the great things about Enemy of the Gates is that it's finally given me the impetus to finish a tank force for the Red Army!
Long Long Ago…
My first Soviet tanks were five Valentines – the original sculpt from very l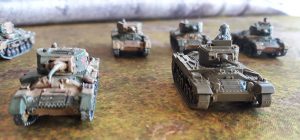 ong ago. I don't recall the reason for painting them (it might have been a game against Pete using Battlefront's infantry to bulk out the force), but for a long time they remained my only Soviet tanks, in fact my only Soviet forces at all.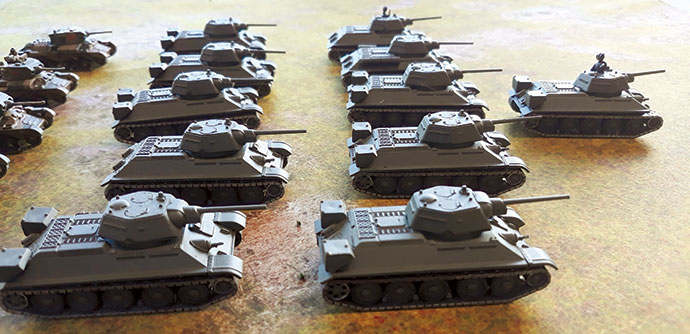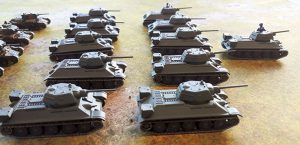 Then, about five years ago, I built a bunch of the brand new plastic T-34 tanks in a big rush for a Kursk campaign at CanCon – during which I seem to recall I lost an entire tank brigade's worth of tanks!
This was never really a complete force, as I borrowed bits and pieces to make up the numbers whenever I used them.
A New Beginning
With the arrival of Enemy at the Gates, it was time to finally commit to the Red Army and the liberation of the Motherland from the hated Fascists! I've always had a fascination with the odd mixed tank brigades that formed the Soviet Union's tank forces in the darkest days of 1942. Each battalion combined KV heavy tanks with T-34 medium tanks and T-60 or Valentine light tanks in an attempt to simplify the assignment of tanks as the Red Army relearned how to conduct sophisticated operations after the disasters that had destroyed the pre-war army in 1941. With every battalion essentially the same, there was no need to decide what type of tank should go where!
KV-1
The new KV-1 kit made that part of the force and easy decision – this just so big and ugly, I had to have as many as possible! While personally, I have a preference for the later, sleeker, and faster KV-1s, I decided to make mine the earlier KV-1 themed for the fighting around Rzhev.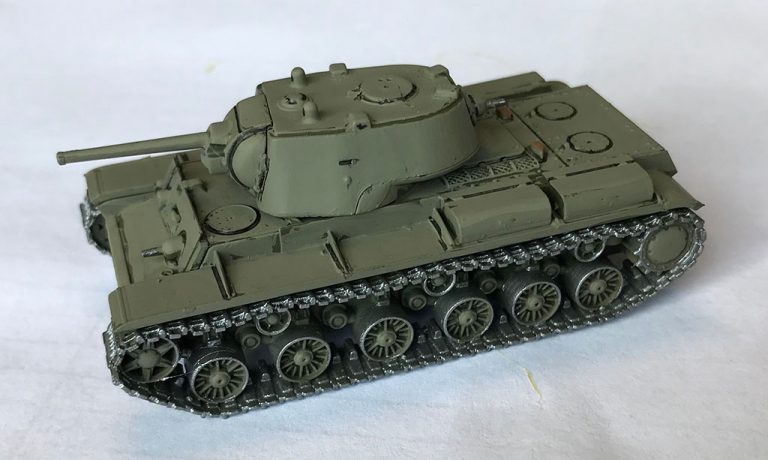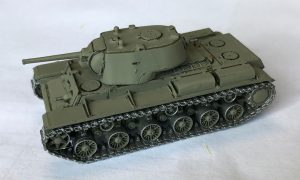 The KV-1 has plenty of armour and a deadly 76mm gun, so it's a bit of a beast. My only concern is that they are so slow that they need to keep rolling forward as fast as possible if they are going to get anywhere, and even then, they will be out-paced by my light and medium tanks, making coordination tricky.
When Red Banner (the Kursk-era Soviet book) comes out, I think I'll make some KV-1s as an alternative choice to my KV-1s for a later version of the force (I don't need many, and they are an easy kit to put together and paint, so it won't be any drama). The KV-1s is much faster (it's speedier than the German Panzer III or the American Sherman!), but still has thick armour and the same 76mm gun, with improved layout giving it a better Cross rating and more accurate shooting on the move.
T-34
Since the early T-34 differs from the later ones I already have, I just painted the turrets of the new ones to go with my existing hulls to get my force into action quickly. Once everything else is done, I'll paint up the hulls as well to double the size of the T-34 force!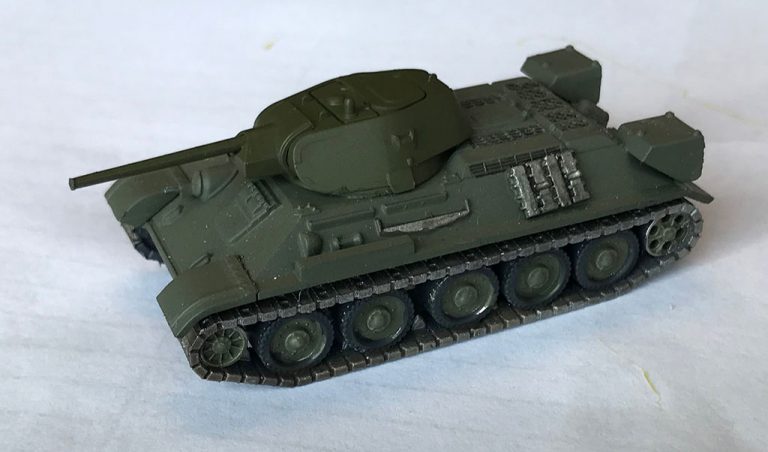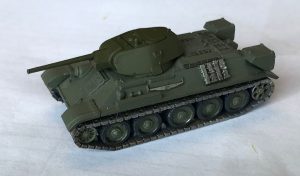 I really like the T-34. It looks sleek and fast, and it is. It has the same 76mm gun as the KV-1, and almost as much armour as the KV-1s. This combination gives it plenty of options. Against light tanks (up to and including the short-barrelled Panzer III!), they can shrug off the enemy shooting while sitting in an advantageous position and blowing them away. Against heavier opposition, they can use their speed to overwhelm a part of the enemy force, flanking them if necessary to punch through their thinner side armour!
T-60
The final part of my force was planned to be the T-60 light tanks. These are an amazing piece of engineering. They are the size of a British Universal Carrier, and like them are powered by a truck engine (based on the famous Ford Model A!). Unlike the open-topped Universal Carrier, they are a proper tank with a turret mounting a 20mm gun and co-axial machine-gun, and for something so small, quite decent armour.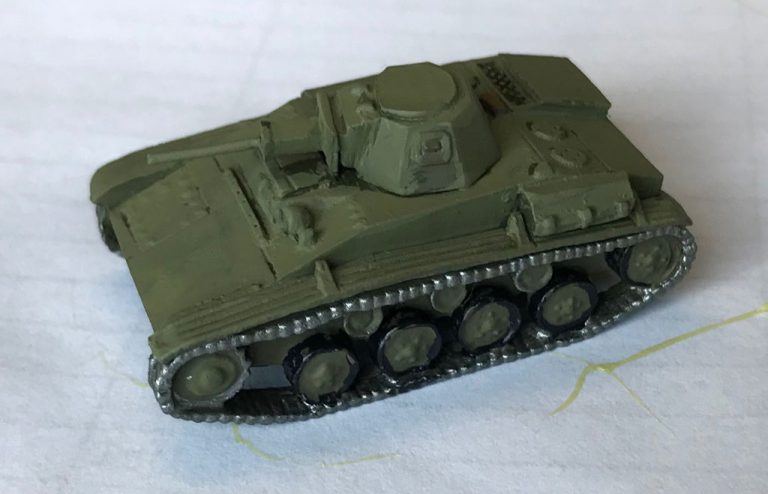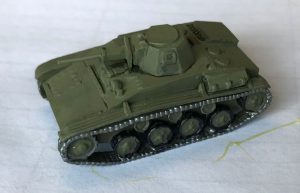 The role I have in mind for the T-60 is similar to how I use my Universal Carriers with my British. They'll probe where the enemy is weak, either drawing enemy forces away from the main battle, or potentially taking an objective and winning the game!
Help! I Can't Stop!
At this point, I should have moved on to painting my force, but the new Valentine models are so great that I just had to replace my old Valentines as well to give me more options.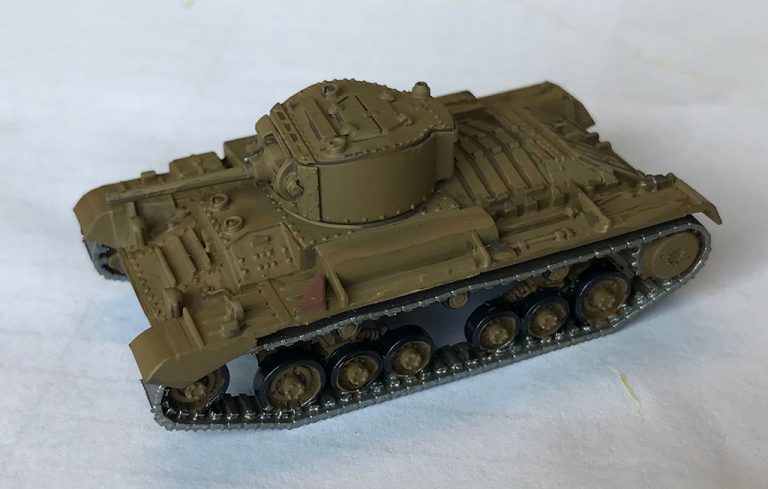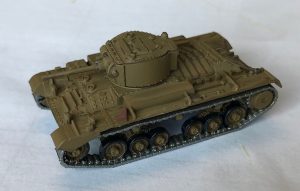 The first tank I ever saw and climbed inside was a Valentine, and I've always had a soft spot for them. NZ had 255 Valentines, and used them to equip its Territorial armoured regiments until 1960, as well as using them in the Pacific during WWII, so there's a connection there too.
With the Valentines, I can either replace any other the other types. While the idea of replacing the T-34s to create a mix of KV-1 heavy tanks and lots of light tanks is popular, it doesn't appeal to me as I view the T-34 as the mainstay of my force. Replacing the T-60s with Valentines is a better idea, but the increased cost means that I have to reduce the number of heavy and medium tanks to do this. The trade off is good in some ways, as the Valentines can stand up to a lot more punishment (their armour is thicker than a T-34!), but it changes their role as they have to achieve more to justify their points.
My personal preference is to replace the KV-1s with the Valentines. This gives me more tanks and frees up some points for a bit of support.
Stay tuned for part two….
~Phil