with Andrew Haught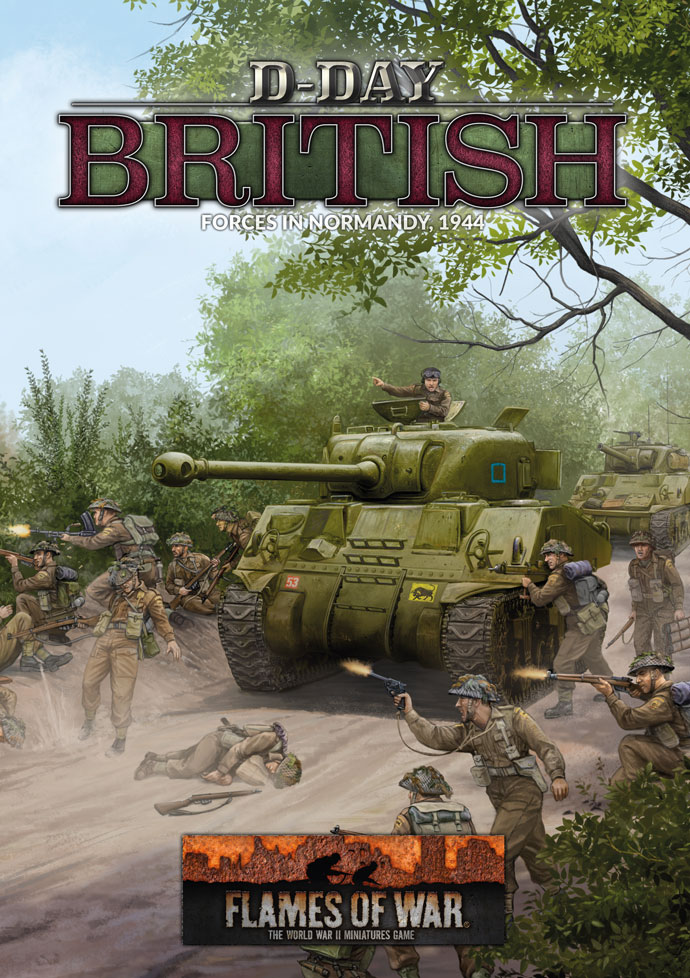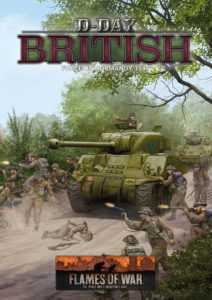 On June 6th, 1944 the Allied forces launched one of the largest amphibious assaults ever. This book follows the British and Commonwealth forces that overcame the German defences and claimed Sword, Gold, and Juno beaches as well as the breakout after. The forces in the book are broken down into three major groups: you have your regular war weary units that form the backbone of your forces, you have your Desert Rat veterans and lastly you have your elite troops like the Commandos and Airborne units. These options are perfect to build any list for D-Day and the breakout.
Check out D-Day British in the online store here…
What's In The Book?
Parachute Company
Tough and deadly troops, able to hit hard in Assaults and hold their own when assaulted.  Extra anti-tank with up to two PIATs in each platoon.
Light unit with a good selection of integrated units, Anti-Tank, machine-guns and artillery, almost a whole army unto itself.  Can parachute into battle in airborne assault missions. With the extra PIATs and access to 6pdrs and 17pdrs in the formation, this formation is one that tanks will need to be wary of.

Airlanding Company
Elite deadly troops the Airlanding Company will be a hard unit to shift.
The Airlanding Company is well equipped with their own light mortar and up to two PIATs in each platoon.  Has the option to take a fourth Airlanding Platoon. Can land by glider in airborne assault missions. Has access to two 6pdr Anti-tank platoons and a 17pdr platoon to give you all the anti-tank assets an Airlanding Rifle Company could want.


Commando Troop
The Commando Troops are some of the most elite troops you can find. Being Fearless Vets is good, having Deadly on top of that makes them assault monsters hitting on a 2+, and that's even better.  The Commandos have the standard platoon layout but with the Commando stats this unit is far from standard. Commando Troops are small with only machine-guns and mortar units integrated into the formation. This makes them ideal to match up with another formation that could use some of the best troops backing them up. Commandos are good at pretty much anything they do. If you need to assault an Objective, hold an Objective, or take out a stubborn enemy platoon, there is no other unit in the book better suited to the job.


Two Rifle Companies
The Desert Rats have less morale than the regulars, for this the Desert Rat troops are cheaper to field.  The Rifle Companies make up the backbone of the British forces, they are reliable and well trained.  Rifle Platoons are cost-effective platoons that are deadly in the assault. Rifle Platoons can choose to attack at night, giving your troops the cover of darkness while advancing. The Formation boasts loads of options, mortars, anti-tank guns, machine-guns, and Recon. The Universal Carrier Patrols of the Infantry Company gives your troops the edge by Spearheading your assaults. Wasps give your troops flamethrowers that can clear an Objective in a jiffy.
Easy to convert from Rifle Company in Fortress Europe. You can use the same models to play both the regular and the Desert Rat Rifle Companies.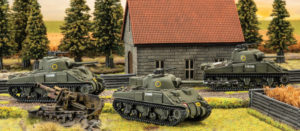 Two Sherman Squadrons
The Sherman Armoured Squadron is your normal Sherman Company that has integrated Fireflies in your Sherman Troops, giving you the higher anti-tank of the Firefly tanks in each platoon. The Sherman DD Squadron is a unique formation that has your Firefly Armoured Troops formed into a single unit giving you a more focussed anti-tank unit. This leaves their normal Shermans on their own, with platoons of 3. Cost-effective medium tanks, the Sherman gives you a cheap tank that can hold its own in most tank duels. The Stuart Recce Patrol gives your tanks spearhead, and an effective light tank that can both screen infantry and other light tanks.
The Crusader AA gives you some much needed AA that can keep up with the tanks. Easy to convert from the M4 Sherman Tank Company in Fortress Europe.
Churchill Armoured Squadron
Heavy Tanks that can take on enemy tanks and infantry alike. Need more armour? You can upgrade one of your tanks in each troop to a Churchill (Late 75mm), this gives the Churchill a whooping front armour of 11!
Need more AT? You can take a 6pdr in each unit to up your Anti-Tank to 11.
If you have the points you can bring up to five platoons of Churchills, along with Stuart Recce and Crusader AA tanks, all this gives you a really tough force in just one Formation!
Cromwell Armoured Squadron
The Cromwell Armoured Recce Squadron gains the Scout rule in each of their platoons. They also don't have a firefly in their platoons giving them a different feel altogether than the Desert Rats Cromwell Armoured Squadron.  Desert Rats Cromwell Armoured Squadron have reduced morale compared to the Recce Squadron. Each unit also has a Firefly tank integrated into their platoons giving them a heavy Anti-Tank tank within their Troops. The Cromwell is a fast tank that has great Terrain, Cross Country, and Road Dashes. Use these tanks to outflank an unwitting opponent or to speed to an Objective before their reinforcements have time to arrive.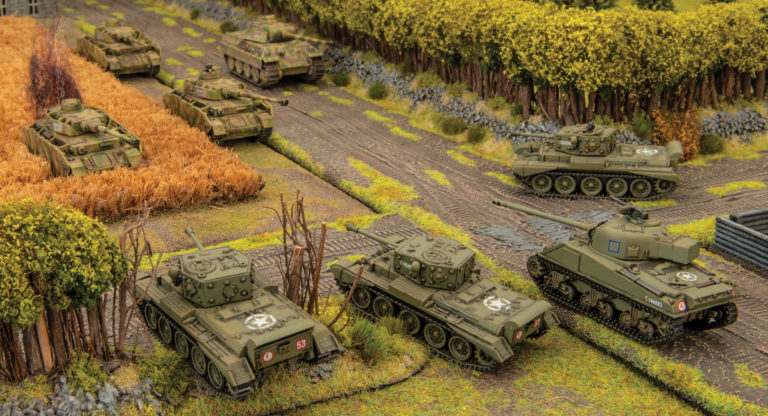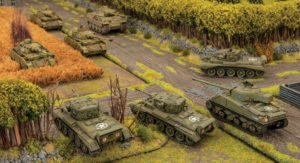 Motor Companies
Like the Rifle Companies there are two kinds of Motor Company, the Desert Rat and the regular Company. The Desert Cat Company has a lower morale rating, making them cheaper than the regular troops. Motor Platoons are small and cheap, this is the perfect Unit to add to another much larger Formation that needs to use up those last points. Motor troops are equipped with Bren guns making them ideal defenders, and giving them a lot more firepower than their small size would denote.  Motor Companies are like miniature Rifle Companies, with lots of options to fill out your points and help round out your force.
Support
The Armoured Car Troop gives recon assets to any Formation that needs them. The M10 SP Anti-Tank troop gives you mobile heavy anti-tank. The 17pdr boasts a massive anti-tank of 14 that can penetrate most everything your opponents will throw at you. The 17pdr Anti-Tank Troop is great on the defense, just dig them in and watch your opponent worry about their tanks the whole game.
The Crocodile tank is the ideal infantry killer, with its rate of fire 5 flamethrower! Coming in at 21 points for three these tanks are well worth it. Along with their flamethrower they also have a gun and massive front armour of a Churchill (Late 75mm).
The AVRE is a deadly anti-infantry tank that can be devastating if your opponent lets it get close enough. The 25pdrs and the Priest Field Troop artillery give your forces some powerful artillery support on top of all your integrated artillery in your Formations. The Bofors Light AA Troop gives you AA in all of your formations, giving you protection from aircraft and a nice light anti-tank weapon in a pinch. The Typhoon Fighter-Bomber with its rockets can devastate even the heaviest of tanks.



How Do The British Play?
The British have loads of interesting options that run the gambit from from the cheaper Desert Rat Motor Company to the most elite Commando Troops. It all comes down to your play style.
When you want to play defensively you will want to build your force around one of the Rifle Companies. These companies give you the core of what you need to be defensive, add in some of the Churchills and M10s to give you the armour you need to keep your enemy tanks at bay. Once dug in, a British Rifle Company is hard to shift, and scary to assault.
When you want to be aggressive you have loads of choices. For a more tank-focussed army the Cromwell tanks are fast but expensive, so you want to pair them with Motor Troops or Rifle Companies. If you go with Shermans you can better afford the more elite infantry choices like Airborne or Commandos. If you want to focus on infantry then the Airborne Companies and Commando Company are some of your best fighters, bring them and a unit of Cromwells in support and you will have a strong striking force.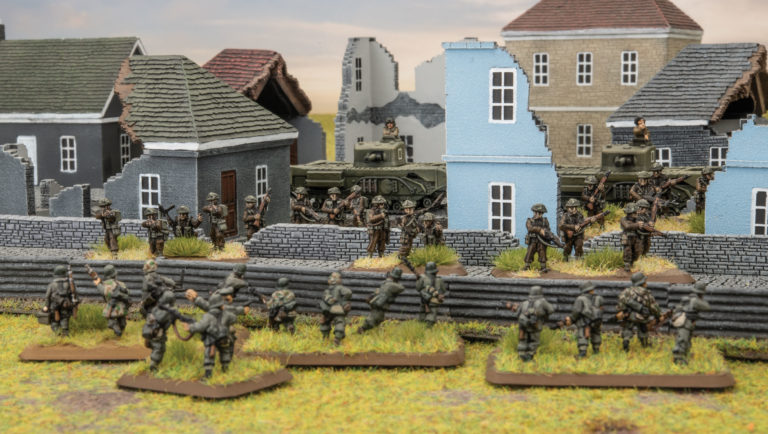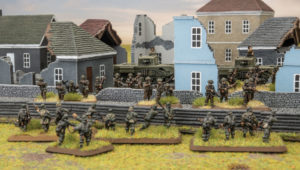 Normandy Campaign Missions
D-Day: British book includes four more missions, three breakthrough Bocage missions and another Airborne mission. The first mission is the Brew Up mission, the defender is surrounded by attacking players who deploy in a random way.
The second mission Bocage Country is your normal Bocage mission that has the Attacker fighting their way though Bocage while the defenders try to hold them off as they wait for reserves.
The Third Bocage mission is The Meatgrinder mission. In this mission player deploy on either side of the table and both have to fight their way to a central objective that goes live on the sixth turn.
The last mission is an Airborne mission, Seize and Hold. In this mission we mix things up, with the Defenders having to attack into the Attackers who just air landed and took the objectives. The Defender will have to move quickly to as the the Attacker will win if they keep the Defenders at bay for six turns.
Warriors Of D-Day British
The British D-Day Command cards include six Warriors: Richard Pine-Coffin, Peter Young, Stan Hollis, Joe Ekins, David V. Currie, Sydney Valpy Radley-Walters.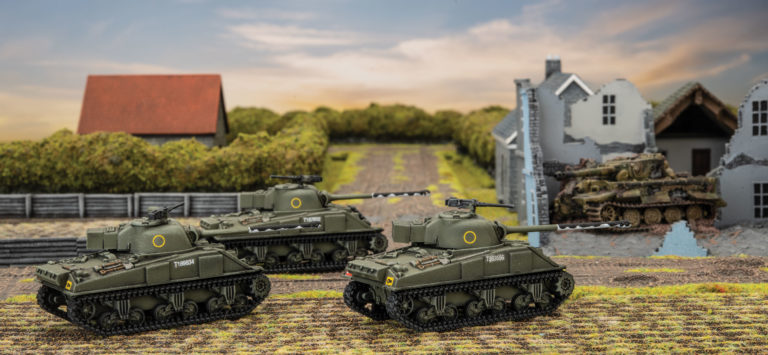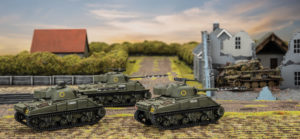 Richard. Pine-Coffin
Faced with defending Pegasus Bridge with only half of his battalion present, Lt-Colonel R. G. Pine-Coffin mounted a counterattack using available personnel to repel the German assault. Lt-Colonel R. G. Pine-Coffin is a Parachute Formation Commander that gives himself and any attached united better counter attack ratings. He also hits on a 2+ in Assaults.
Peter Young
To inspire his men's confidence under fire, Lt-Colonel Peter Young told them that 15 feet of standing crops would stop a bullet. He may well have been right as none were hit. Either way, his men learned to make excellent use of any cover they could find. This Commando Formation Commander gives his unit the ability to go Go to Ground while on the move.
Stan Hollis
On D-Day, Company Sergeant Major (CSM) Stan Hollis saved D Company by single- handedly taking out two key HMG Bunkers and capturing 25 German defenders. This Rifle Company Formation Commander gives himself and units from his formation that are close-by improved Rally ratings.
Joe Ekins
Trooper Joe Ekins was a Firefly gunner who destroyed four tanks in a single day, including three Tiger tanks. One of the Tiger tanks he faced that day was commanded by Michael Wittmann, and some speculation would have it that Joe Ekins fired the shot that killed Wittmann, but that is still disputed to this day. This tank Warrior takes over a Firefly in one of your Sherman platoons. Ekins' Firefly gains re-rolls To Hit, and he ignores the armour bonus on tanks he fires at that are over 16"/40cm away.
David V. Currie
Major David V Currie made a point of regularly checking on his men—whether they were his own tank company or another company that his tanks were working with. On several occasions he dismounted from his tank to lead his men under fire. This Sherman Tank Company Formation Commander gives himself boosted command range, and he may roll an additional dice when in assaults.
Sydney Valpy Radley-Walters
Major Sydney Valpy Radley-Walters has the distinction of being the western Allies' top ace during the war. His tank squadron is one of many that claims to have taken out the German tank ace, Michael Wittmann. This Sherman Tank Company Formation Commander gives himself a better Blitz Move Order on a 3+ and forces any enemy tanks hit by him to re-roll successful armour saves.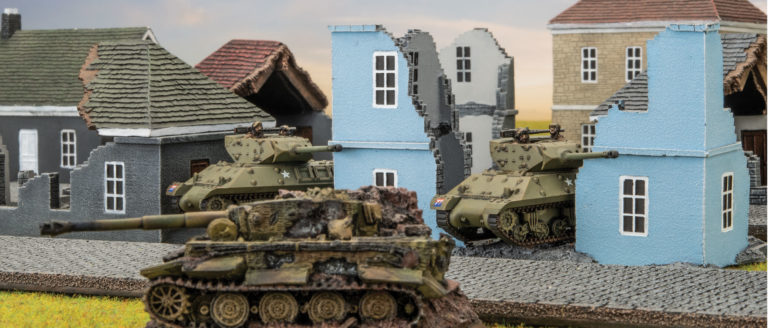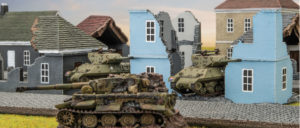 Command Cards
This set of command cards introduces a new type of Command Card to British forces, Title Cards. These cards have the title of a division and a special rule giving the division's flavour. The key is that you can only have one title in your force.
Title Cards for the British give you access to more unique and flavourful formations. These cards allow you to use existing formations from the book to create new lists that focus on particular units or formations. These cards also add in Canadian Divisions, Guard Divisions, Scottish Divisions, Polish Tanks, Welsh Divisions and more. With a simple card you can transform a unit like your British Rifle Company to a Welsh Division that has a different Last Stand and Dig In ratings while you are near an Objective. That's the real cool thing about Title Cards, they let you take existing armies you may have, and by adding one card you have another army that works a bit differently than it did before.
Along with the new Titles you have everything you have come to expect in a Command Card set, new Formations and interesting upgrades to old ones.
As a special side bonus the pack also comes with one American Command Card for the 29th. Those who know me know that the 29th is one of my favorite companies in Flames Of War, and I really wanted to add the 29th Infantry Card to the American Command Card box but the timing was off. This card lets you bring in Crocodiles from the British book- Crocodiles that were not coming out till the British book, so I had to wait, and was able to sneak it into this set.