with Wayne Turner
Enemy at the Gates has arrived and I thought I'd have a go at making a force from models I've already painted from my previous spin on the mid-war Eastern Front roundabout.
Over the years I'd built up a reasonable collection of Soviet models I've used in various forces for mid-war. So having a look through them I thought I'd make a Mixed Tank Battalion (see page 19 of Enemy at the Gates).

The Mixed Tank Battalion does not have a Formation Commander, so it's straight on to selecting my Formation's Units. This unusual formation consists of three tank companies, each of a different type of tank. The first compulsory option (black) contains either a KV-1 Tank Company or a KV-1S Tank Company. I've gone with the KV-1 Tank Company because I prefer the higher armour of the older KV-1 model and feel I don't require the extra speed offered by the KV-1S tank. Another reason to take the KV-1 is that I have a box of about 10 of them painted (don't ask me why, I don't want to talk about it). I can take 3-5 KV-1 heavy tanks. I've gone with 5x KV-1 for 40 points.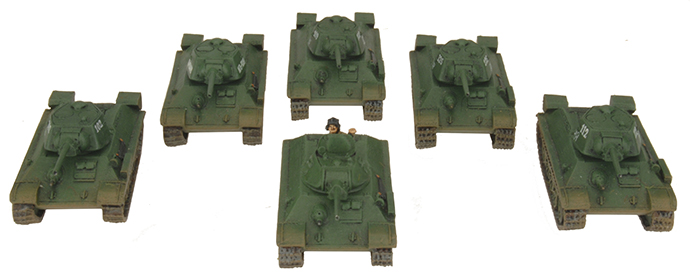 The second compulsory (black) choice is either a T-34 (early) Tank Company or a Valentine Tank Company. I'm not a fan of lend-lease stuff, I feel if you are going to do a Soviet force, take Soviet equipment. I'll be going with the T-34s. The option is for 3-10 T-34 (76mm) tanks. I'll go with 6x T-34 (76mm) for 31 points.

The Formation has three other unit boxes, all shaded grey as optional. One more tank option, an infantry option, and a mortar option. For the last tank option you can take either a Valentine Tank Company, a M3 Stuart Tank Company, or a T-60 Tank Company. I'm taking the T-60s because they are Soviet and I have all but one painted. I'll take 7x T-60 for 6 points.
I will take one more formation unit. I've decided to go for the infantry option with a SMG Company. I'll get the smaller option with 15x PPSh SMG Teams and 1x Komissar Team for 15 points. My last Unit will be from support. I'll take a 122mm Artillery Battery with 4x 122mm howitzers for 8 points.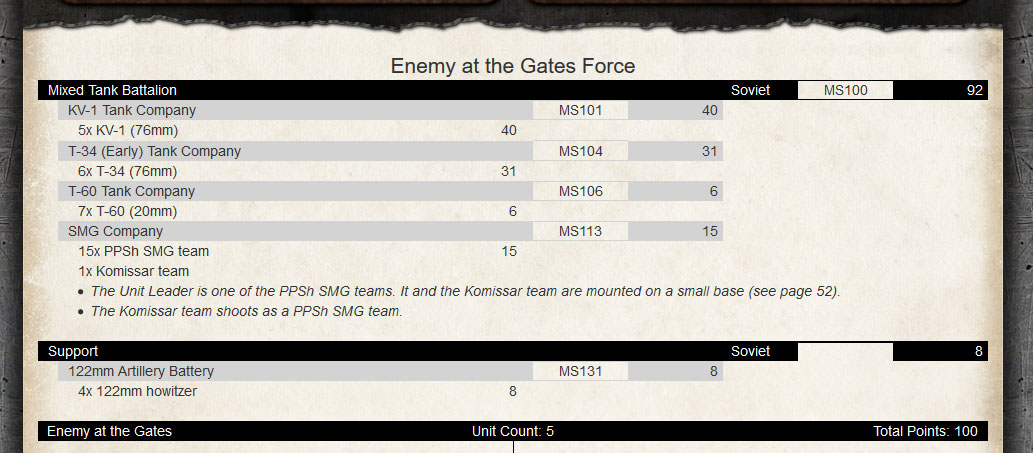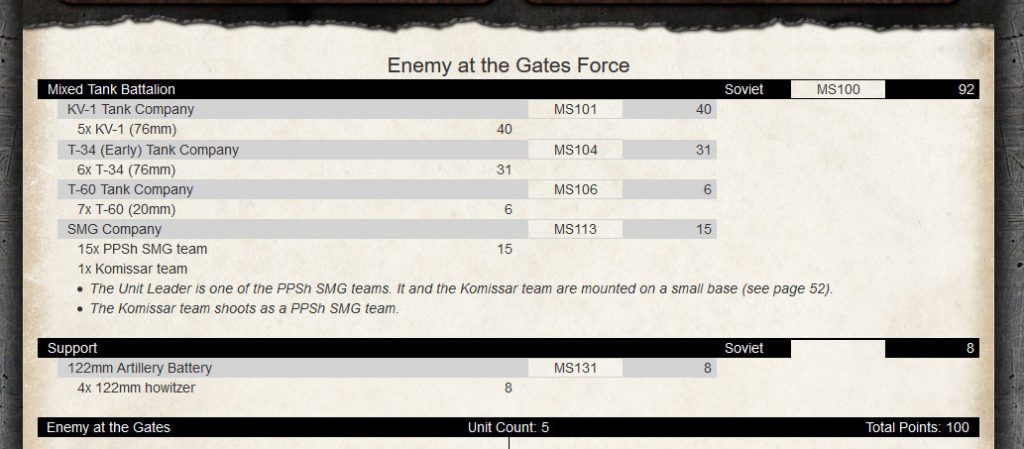 My Expectations
With the only modelling require to field this force being to paint one T-60 to go with the six I already have I will get this on the table top quite quickly. I think the T-34s and KV-1s will prove pretty resilient against most forces. However, my key problem may be my lack of air defence and an observer. The Mixed Tank Battalion does not have a formation commander, so no one to spot for the artillery other than the artillery themselves. This is the reason I went with the 122mm howitzers rather than the Katyusha rocket launchers, as the howitzers are a bit less vulnerable to enemy direct fire. To observe their fire the howitzers will have to have direct line-of-sight to their targets, I just hope I can occupy the enemy enough with my infantry and tanks to allow the artillery to bombard uninterrupted. As for enemy aircraft, I'll just have to hope they don't turn up too often.

~Wayne